Starting 2013, China police to seize foreign ships in disputed seas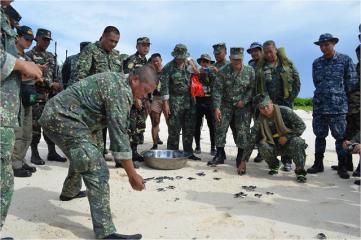 WESCOM chief Lt. Gen. Sabban, troops visit PHL-held island at Spratlys. Visiting WESCOM Commander Lt. Gen. Juancho Sabban (2nd left) and Marine soldiers deployed on Likas Island, a PHL-occupied island in the West Philippine Sea, release turtle hatchlings into the sea over the weekend. Sabban briefed his men on the current security situation in the area and asked them to be vigilant. AFP/WESCOM/HO
Under new rules that threaten to greatly increase the risk of armed conflict, Chinese law enforcers starting next year will be boarding and seizing foreign vessels in areas claimed by China in the volatile West Philippine Sea, according to a
report
by the Chinese state media.
"That's too much. While we are exerting all peaceful means, that is what they are doing," said Lt. Gen. Juancho Sabban, commander of the AFP's Western Command. "That's a violation of (the rules) over international passage."
Sabban was reacting to the report in the official China Daily that said revised regulations allow Chinese authorities to board and search all ships that will enter its territorial waters.
New rules, which come into effect on January 1, will allow Hainan police to board and seize control of foreign ships which "illegally enter" Chinese waters and order them to change course or stop sailing, the official China Daily reported.
"Activities such as entering the island province's waters without permission, damaging coastal defense facilities, and engaging in publicity that threatens national security are illegal," the English-language newspaper said.
Both China and the Philippines — as well Taiwan, Malaysia, Brunei and Vietnam — are locked in a dispute over ownership of the Spratly Islands, a chain of islands and islets believed to be rich in oil and minerals deposits, in the West Philippine Sea.
De facto control of Panatag Shoal
China has already taken de facto control over the disputed Panatag (Scarborough) Shoal, after a stand-off that started last April when a Philippine Navy ship attempted to confiscate protected marine life from Chinese fishing boats. After Philippine boats voluntarily withdrew from the shoal, Chinese law enforcement ships formed a physical cordon around the shoal and have since prevented Philippine vessels from entering.
The Panatag Shoal has been a valuable shelter near the Zambales coast for Filipino fishermen seeking refuge from storms. They may need the shelter again as a storm has been spotted heading towards Luzon and is expected to make landfall and head west next week.
Philippine occupation of islands
Filipino troops are occupying nine islands in the disputed area, including Pag-asa Island, located some 200 nautical miles off Puerto Princesa City in Palawan province. Pag-asa serves as the seat of government of Kalayaan town in the province.
The military's Western Command is in charge of protecting the country's interest in the disputed area.
Sabban visited the troops stationed at the nine Philippine-occupied areas in the Spratlys last week. It took him four days to complete the visit of the nine islands, the first time for any Wescom commander.
— with a report from Reuters/KBK/HS, GMA News