Typhoon Pablo heads for the Visayas, 12 areas under Signal 3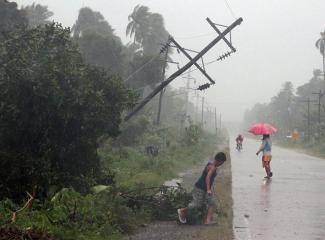 'Pablo' leaves death and destruction as it exits N. Mindanao. Residents brave heavy rains after Typhoon Pablo (Bopha) hit the city of Tagum, Davao del Norte on Tuesday. 'Pablo' smashed into northern Mindanao early Dec. 4, as more than 40,000 people crammed into shelters to escape the onslaught of the strongest cyclone to hit the country this year. Four persons were confirmed dead as of Tuesday afternoon. AFP
After plowing through Mindanao earlier in the day, Typhoon Pablo (Bopha) has started heading for Siquijor and Negros Oriental in the Visayas, the Philippine Atmospheric, Geophysical and Astronomical Services Administration said Tuesday afternoon.
PAGASA said the typhoon, which had made landfall over Davao Oriental before dawn Tuesday and crossed parts of Mindanao, accelerated slightly toward the Visayas area.
In its 5 p.m. advisory, PAGASA said Typhoon Pablo was estimated to be 60 kilometers southeast of Dumaguete City as of 4 p.m., with maximum sustained winds of 160 kilometers per hour near the center,and gustiness of up to 195 kph.
Typhoon Pablo was moving west-northwest at 24 kph and is expected to be 140 km southwest of Coron, Palawan by Wednesday afternoon.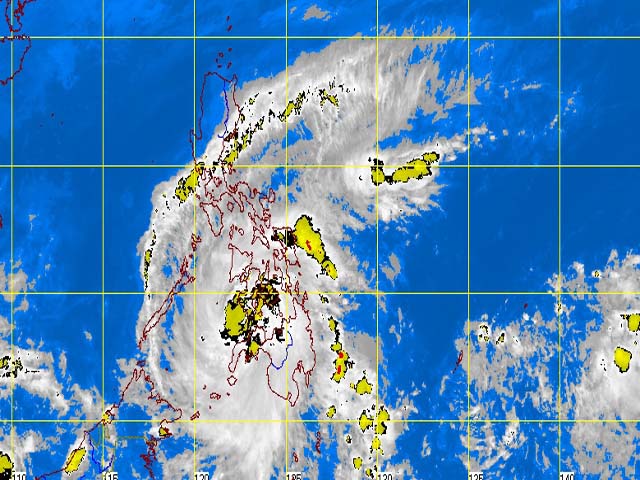 PAGASA satellite image of Typhoon Pablo as of 5:30 p.m., December 4, 2012.
By Thursday afternoon, it is expected to be 450 km west of Subic, Zambales. By Friday afternoon it is expected to be 660 km northwest of Iba, Zambales.
Storm Signals
Areas under Storm Signal No. 3 are:
Northern Palawan, including Calamian Group Of Islands
Bohol
Siquijor
Southern Cebu
Negros Oriental
Southern Negros Occidental
Iloilo
Guimaras
Antique
Lanao del Norte
Misamis Occidental
Zamboanga del Norte,
Under Signal No. 2 are:
Rest of Palawan
Aklan
Capiz
Rest of Cebu including Camotes Island
Rest of Negros Occidental
Misamis Oriental
Agusan del Norte
Bukidnon
Lanao del Sur
Zamboanga del Sur including Sibugay
Under Signal No. 1 are:
Occidental Mindoro
Oriental Mindoro
Romblon
Leyte including Biliran
Southern Leyte
Surigao del Norte including Siargao
Surigao del Sur
Dinagat
Agusan del Sur
Davao del Norte
Compostela Valley
North Cotabato
Maguindanao
PAGASA said Typhoon Pablo may bring rainfall of 10 to 18 millimeters per hour (heavy to intense) within its 500-km diameter.
It advised residents in low-lying and mountainous areas under public storm warning signals to be alert against possible flash floods and landslides.
Also, those living in coastal areas under public storm warning signals 2 and 3 were alerted against big waves or storm surges.
Fishing boats and other sea vessels are advised not to venture out into the seaboards of the Visayas and Mindanao.
— DVM, GMA News