Google puts up Typhoon Pablo crisis map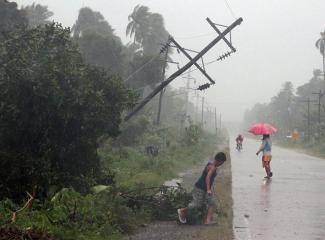 'Pablo' leaves death and destruction as it exits N. Mindanao. Residents brave heavy rains after Typhoon Pablo (Bopha) hit the city of Tagum, Davao del Norte on Tuesday. 'Pablo' smashed into northern Mindanao early Dec. 4, as more than 40,000 people crammed into shelters to escape the onslaught of the strongest cyclone to hit the country this year. Four persons were confirmed dead as of Tuesday afternoon. AFP
Internet giant Google set up a crisis map for Typhoon Pablo days before the typhoon ravaged Mindanao.
This crisis map, available in Filipino, shows the typhoon track, landslide- and flood-prone areas, areas under public storm warning signals, and other important information about the disaster.
In a Google Hangout on Dec. 4, Anthony Baxter of Google.org's Crisis Response Team said that they have been doing crisis maps for the Philippines for some years now, starting with Tropical Storm Ondoy in 2009.
"During the crisis we need to inform people about what's going on, especially for Filipinos overseas who have relatives and loved ones back in the Philippines... After the crisis, how do the people recover?" Baxter said.
"It's part of our corporate social responsibility. Basically, we want people to take the map and use it," he added.
Google's head of outreach team in Southeast Asia Aileen Apolo said that they are working with various government agencies, including PAGASA and specific local government units, and a pool of volunteers to collate data for the crisis map.
"Volunteers have been working with us for the past couple of typhoons. We also have [the] Google Developers group. In the Philippines, we actually have a strong mapping community who even sets up 'Map ups' events across the country," Apolo said.
Baxter also said aside from Ondoy and Pablo, Google was also able to set up crisis maps for Sendong and several earthquakes in the Philippines.
"It's well-received, especially for Filipinos who live abroad. It's an easy way to get in touch with their loved ones," said Apolo.
She added that it has been particularly helpful in showing locations of evacuation areas, and those areas with power cuts.
"It's for the public, crisis responders, including those who work for government agencies," said Baxter.
Baxter also said that the Google crisis map project is still open for development.
"Essentially, it's going to be driven by disasters. There's always work to be done. But it could be improved," he said.
He also added that they are still looking into upcoming technologies and what information is needed for future disasters.
— BM, GMA News