Over 30 people killed in ComVal as 'Pablo' batters Mindanao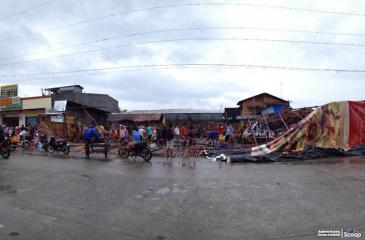 'Pablo' destroys structures along its path . Typhoon Pablo (Bopha) brings down fences, tears out roofs at a commercial area in Mati, Davao Oriental on Tuesday as the super typhoon barrels through northern Mindanao. Two people have been reported dead and an undetermined number of structures were reported damaged. GMA News/YouScoop
(Updated 4:30 a.m.) More than 30 people were reportedly killed in the Compostela Valley after Typhoon Pablo lashed Mindanao Tuesday, destroying homes, uprooting trees and rendering many roads impassable due to floods and landslides.

Interviewed on GMA 7 program "24 Oras," Compostela Valley Governor Arturo Uy placed the number of fatalities at 33, including those who were on board an Army truck that was swept away by raging floods.

"Pagkalunod... kasi napakalakas iyong agos ng tubig e," Uy said.

He was unable to give a breakdown of the fatalities, but added that the conditions in the area were now somewhat stable.

Citing information from New Bataan Mayor Lorenzo Balbin Jr., Jun de Gamon, a reporter based in the area, told GMA News Online that as many as 43 were killed, although only 34 bodies have so far been recovered.



Philippine Army spokesman Maj. Harold Cabunoc had similar numbers. Citing a report from 10th Infantry Division spokesman Lt. Col. Lyndon Paniza, Cabunoc said through his Twitter account that "43 were reported dead in [the] New Bataan, Compostela Valley flooding."

Disaster management officials have yet to confirm the figures.

A report by Agence France-Presse said authorities were checking reports that the truck swept away by floods was carrying 30 soldiers and 20 civilians.

The National Disaster Risk Reduction and Management Council (NDRRMC) has, as of 6 p.m. Tuesday, confirmed only four deaths as a result of the typhoon, the strongest to hit the country in the year.

"There was a platoon of about 30 soldiers that deployed there in preparation for the typhoon," said NDRRMC head Benito Ramos. According to Cabunoc the soldiers belonged to Charlie Company, 66 Infantry Battalion, whose base was swept away floodwaters.

The NDRRMC identified the fatalities as:



- Jegger Gomonit, 31, Panaon, Misamis Occidental, hit by fallen tree
- Erlinda Balante, 60, Manay, Davao Oriental, hit by fallen tree
- Elberto Daniel, 23, Siquijor, hit by fallen tree
- Sgt. Olivarez from a temporary command post of Charlie Company in Barangay Andap, New Bataan, Compostela Valley, died from drowning



Four fishermen were also reported missing off Mindanao's east coast, said Freddie Bendulo, planning and development officer of Davao Oriental province.

Fewer confirmed casualties

Typhoon Pablo headed for the Sulu Sea late Tuesday afternoon, changing course westward after briefly threatening the central tourist islands of Bohol, Cebu and Negros, according to the national weather service, PAGASA.

Hundreds of people are killed each year by the 20 or so tropical cyclones that lash the country, but Ramos said that there were fewer confirmed casualties so far from the typhoon due to government efforts to move people to safety.

"So far, casualties have been minimal. We attribute this to the cooperation of our people and the efforts of local officials," he told reporters.

Winds blew roofs off some buildings and residents of coastal and low-lying communities in Mindanao moved into shelters as floods hit some areas, residents and AFP reporters said.

Television footage also showed logs being swept down Mindanao's Sumilao river, and utility workers cutting up fallen trees that were blocking highways.

More than 53,000 people were moved into nearly 1,000 government shelters by early Tuesday, the civil defence office said.

Television footage also showed large numbers of people lying on mats or cardboard sheets on the concrete floors of gyms.

Meanwhile, a total of 145 flights to and from Mindanao and the central islands were grounded since Monday night and more than 3,000 ferry passengers were stranded as vessels were ordered to stay in port, the civil defence office said.

Large parts of Mindanao, which is not normally hit by typhoons, were without electricity after power was cut to reduce the risk of fires and electrocutions, said Liza Mazo, a regional civil defence official.

Residents living in the path of the storm did what they could to protect their homes and possessions.

"We have taken our pigs and chickens inside our house because their shed might be destroyed," 46-year-old shopkeeper Marianita Villamor from the southern farming town of San Fermin said.

Stranded at seaports

At least 4,963 people were stranded in major ports nationwide due to bad weather conditions brought by Typhoon Pablo (Bopha), the Philippine Coast Guard said Wednesday.

Citing figures as of 8 p.m. Tuesday, the Coast Guard said most of those stranded were in the Zamboanga-Jolo area and Western Visayas.

The Coast Guard said 527 rolling cargoes, 152 vessels and 59 motor bancas were also stranded.

A breakdown of the stranded passengers showed 70 were in Metro Manila, 414 in Central Visayas, and 569 in Eastern Visayas.

Some 527 were stranded in Southern Luzon, including 467 in Batangas.

It said 1,447 were in Southwestern Mindanao (Zamboanga and Jolo), 152 in Palawan, 738 in Northern Mindanao, and 1,033 in Western Visayas including 776 in Iloilo.

Typhoon Pablo devastated parts of Mindanao after making landfall Tuesday, and now threatens Visayas and parts of Southern Luzon. — AFP with reports from Gian Geronimo and Rouchelle Dinglasan/KBK/DVM, GMA News