Death toll mounts in wake of 'Pablo'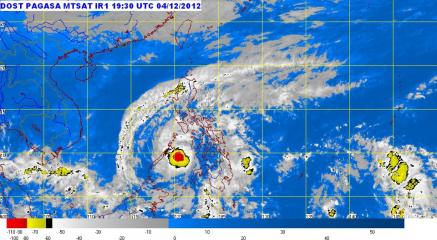 Satellite image of Typhoon 'Pablo' . According to PAGASA, as of 4:00 a.m Wednesday, the eye of Typhoon "PABLO" was located at 180 km East of Puerto Princesa City. "PABLO" has further weakened as it continues to move towards Northern Palawan, PAGASA also said. PAGASA-DOST
The death toll from Typhoon Pablo (Bopha) continued to mount Wednesday as reports from affected provinces continued to flood in.
While disaster management officials confirmed at least nine deaths as of Wednesday morning, Army officials said as many as 43 were killed in a flash flood in Compostela Valley.
A report by radio dzBB's Glen Juego said the National Disaster Risk Reduction and Management Council has verified at least nine deaths as of early Wednesday.
But NDRRMC head Benito Ramos was quoted in the report as saying they are verifying other casualties in affected areas.
The NDRRMC on Tuesday evening identified four of the fatalities as:
- Jegger Gomonit, 31, Panaon, Misamis Occidental, hit by fallen tree
- Erlinda Balante, 60, Manay, Davao Oriental, hit by fallen tree
- Elberto Daniel, 23, Siquijor, hit by fallen tree
- Sgt. Olivarez from a temporary command post of Charlie Company in Barangay Andap, New Bataan, Compostela Valley, died from drowning
In Compostela Valley, an Army official said at least 43 people were killed in a flash flood that hit New Bataan in Compostela Valley province.
Maj. Gen. Ariel Bernardo, head of the Army's 10th Infantry Division, cited initial reports that the floods came from a spring in the town.
"Naging 43 ang accounted dead, 25 injured. Sa casualty ng sundalo nine ang missing, isa ang dead, isa ang injured (Our accounting showed 43 dead and 25 injured. On the part of the military, one was killed, one injured and nine missing)," he said in an interview on dzBB radio.
He said their problems were compounded when communication was hampered due to cell sites being bogged down by power outages.
But Bernardo said they expect air assets to arrive Wednesday for search and rescue operations.
Weather conditions appeared to have improved and may allow search helicopters to fly over the area, he said.
On Tuesday night, Army spokesman Maj. Harold Cabunoc said the death toll of 43 was from the flash flood in New Bataan town alone.
Citing a report from Lt. Col. Lyndon Paniza, the Army's 10th Infantry Division spokesman, Cabunoc
said
"43 were reported dead in (the) New Bataan, Compostela Valley flooding."
Earlier, provincial governor Arthur Uy said at least six people were killed in the flash flood.
But the NDRRMC only confirmed the death of one soldier - Sgt. Olivarez - in Barangay Andap in New Bataan.
Cabunoc also said the company base of Charlie Company of the Army's 66th IB was swept by floodwaters.
He said the floods injured one Lt. Alex Deazeta.
In Davao Oriental, a
report
on Saksi quoted the Provincial Disaster Risk Reduction and Management Council as saying six were killed and three injured in the wake of Typhoon Pablo.
At least 3,000 residents were evacuated from their homes, the report added.
State of calamity
A separate "Saksi"
report
said Surigao del Sur province was placed under a state of calamity after being pummeled by Typhoon Pablo.
Floods and power outages hit parts of the province due to bad weather conditions.
Coast guard: 4963 stranded due to 'Pablo'
At least 4,963 people were stranded in major ports nationwide due to bad weather conditions brought by Typhoon Pablo (Bopha), the Philippine Coast Guard said Wednesday.
Citing figures as of 8 p.m. Tuesday, the Coast Guard said most of those stranded were in the Zamboanga-Jolo area and Western Visayas.
The Coast Guard said 527 rolling cargoes, 152 vessels and 59 motor bancas were also stranded (www.coastguard.gov.ph).
A breakdown of the stranded passengers showed 70 were in Metro Manila, 414 in Central Visayas, and 569 in Eastern Visayas.
Some 527 were stranded in Southern Luzon, including 467 in Batangas.
It said 1,447 were in Southwestern Mindanao (Zamboanga and Jolo), 152 in Palawan, 738 in Northern Mindanao, and 1,033 in Western Visayas including 776 in Iloilo.
— ELR, GMA News