'Pablo' death toll now over 200, hundreds more missing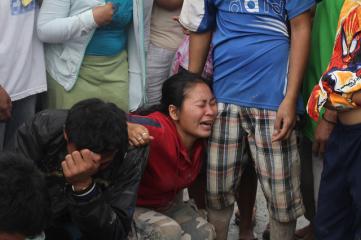 Death toll from Typhoon Pablo reaches 238. In the aftermath of Typhoon Pablo (Bopha), relatives mourn after identifying the bodies of victims in New Bataan, Compostela Valley on Wednesday. The death toll from the typhoon that ravaged the Philippines jumped to 238 on Dec. 5 with hundreds missing, as rescuers battled to reach areas cut off by floods and mudslides, officials said. AFP/Karlos Manlupig
(Updated 5:32 p.m.)
- The death toll from Typhoon Pablo (Bopha), the strongest cyclone to hit the Philippines this year,
went up to 238
as of Wednesday afternoon as it continued on its path from Mindanao to the Visayas and Palawan.
Ripping roofs, blowing away homes, and toppling trees, Pablo wreaked havoc in southern Philippines with its 210-kph gusty winds and heavy rainfall.
In New Bataan town in Compostela Valley, 142 people died and 241 others were missing, according to an Agence France-Presse report quoting Lieutenant-Colonel Lyndon Paniza.
In Davao Oriental, 81 people died while 15 more were reported killed in other areas, according to Paniza and the Civil Defense Office.
95 fatalities recorded by NDRRMC
As of Wednesday noon, however, the National Disaster Risk Reduction and Management Council (NDRRMC) tallied only 95 fatalities.
Of the number, only 18 have been identified as of 12:45 p.m.
Among the identified fatalities were:
Elberto Daniel, 23, of Lazi, Siquijor
Florentino Lagrimas of San Roque, Northern Samar
Jegger Gomonit, 31, of Panaon, Missamis Occidental
John Bonafel, 17, of Baliangao, Misamis Occidental
Rhodora Acosta, 40, of Salay, Misamis Oriental
Ronel Brandares, 6, of Valencia, Bukidnon
Ramonito Bongcasan, 50, of Fortich, Bukidnon
Erlinda Balante, 64, of Manay, Davao Oriental
Aerol Lintuan, 5, of Tarragona, Davao Oriental
Dondot Sumalinab, 15, of Caraga, Davao Oriental
Rosel Anong, 23, of Caraga, Davao Oriental
SSgt. Olivares, New Bataan, Compostela Valley
Jemark Acebedo, 15, of Lingi, Surigao del Sur
Fritzel Cortes, 48, of Lingi, Surigao del Sur
Roseta Amoncio, 69, of Bislig City, Surigao del Sur
Elizabeth Zalueta, 36, of Trento, Agusan del Sur
Cecilio Duama, 77, of Trento, Agusan del Sur
Pepito Cabusas, 40, Trento, Agusan del Sur
Most of the bodies so far recovered by search-and-rescue teams were from Southern Mindanao.
Thirty-three unidentified bodies were from New Bataan, seven from Montevista, and eight from Monkayo, all in Compostela Valley, as well as 16 in Cateel, 12 in Boston, and one in Baganga, all in Davao Oriental
The number of injured also rose to 61.
Presidential spokesperson Edwin Lacierda attributed the NDRRMC's lower figures to the official and standard process that the government follows when reporting casualties.

"First, there must be certification from the Department of Health (DOH), i.e., validate that the cause of death is a consequence of the calamity, followed by positive identification of the remains by anyone familiar with the victim," according to a statement from Malacañang quoting Lacierda.
"Therefore, pending necessary requirements and procedures, all reported figures in the news remain unofficial," Lacierda added.
The NDRRMC reported that 44,954 families or 213,502 persons have been affected by the typhoon so far. As of 1 p.m., Wednesday, NDRRMC said 2,776 houses were destroyed by Pablo in Regions X and Caraga.
The Department of Social Welfare and Development provided P1.2 million assistance to the victims, while local government units were able to provide P2.04 million in assistance.
Davao coastal towns isolated
Meanwhile, in his report sent to Malacañang, Interior Secretary Manuel Roxas II said the worst damage from Typhoon Pablo in Davao Oriental was reported in the coastal towns of Baganga, Cateel, and Boston.
"Compounding the damage sustained, the three towns—with a population of approximately 150,000 individuals—have become isolated as bridge connections—south from Mati and North from Compostela Valley—were struck down during the typhoon," he said.
He said relief goods—primarily food, water, generators, tents, and medicine provided by the DSWD, local government units, and civilian donations—are stored in the capital, Mati.
Roxas authorized the mayor of Mati and the governor of Davao Oriental to use their calamity funds for hiring all available fishing boats for an immediate transfer of goods to the affected areas.
In addition, Transportation and Communications Secretary Emilio Abaya is sending a vessel from the Philippine Coast Guard to help distribute the relief goods. The Philippine Navy has likewise arranged to send over a vessel to the stricken province.
Roxas said the situation in the rest of Davao Oriental is getting back to normal, and there are no visible signs of damage.
"The most difficult challenge we face is the restoration of power to the entire province, due to electric posts that were toppled during the typhoon. The local electric cooperative has assured us that gradual restoration of power begins twenty-four to thirty-six hours from now," he said.
Price monitoring
Meanwhile, a separate dzBB report said the Department of Trade and Industry (DTI) has ordered price monitoring in areas affected by the typhoon.
DTI Director Victor Dimagiba said they will not allow profiteering especially after such a tragedy.
He cited initial reports indicating prices of basic goods remained stable in Western Visayas and Negros Oriental.
It was the sixteenth storm this year to ravage the Philippines, which is hit with about 20 cyclones annually.
In December last year Mindanao was pummeled by tropical storm Sendong (Washi) which killed more than 1,200 and left hundreds of thousands homeless.
US, Canada offer assistance
Meanwhile, the United States on Wednesday expressed sympathy for the victims: "On behalf of the United States government, we extend our deepest condolences for the devastation and loss of life caused by Typhoon Pablo in the southern Philippines."
US Embassy chargé d'affaires Brian L. Goldbeck also said, "We applaud the efforts of local communities, local authorities and the NDRRMC to evacuate citizens, prepare for the storm, and minimize loss of life before and during the storm."
The US will support the Philippines in its rehabilitation efforts, Goldbeck said. "The US government stands ready to assist the Philippine authorities as they respond to this tragedy. Our thoughts and prayers are with all of those affected," he added.
Canada also said it is ready to provide assistance to the victims of Typhoon Pablo, as it extended condolences to those affected by the devastation wrought by storm.
"We stand with the people of the Philippines during this difficult time and remain ready to provide assistance if requested," Canada's embassy in Manila said in a statement.
Foreign Affairs Minister John Baird and Minister of State of Foreign Affairs Diane Ablonczy also said: "On behalf of all Canadians, we offer our deepest condolences and sympathies to those who have lost loved ones or have been otherwise affected by Typhoon Bopha."
Officials at the embassy of Canada in Manila said they are closely following the path of the storm that has left hundreds of people dead and scores missing across Mindanao and Visayas region, and continues to ravage Palawan.
— with a report from Michaela del Callar/Andrei Medina/KBK/KG/VS/YA, GMA News