Palace appeals for donations for 'Pablo' victims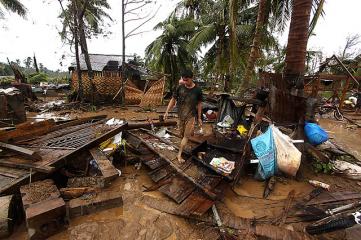 'Pablo' renders thousands homeless in N. Mindanao. Residents try to recover what's left of their belongings after their house was destroyed at the height of Typhoon Pablo (Bopha) in Compostela Valley on Tuesday. Authorities reported on Wednesday morning that 82 people perished at the height of Pablo's fury. AFP
Malacañang on Wednesday appealed to all Filipinos to give donations to the thousands displaced by Typhoon Pablo (Bopha), which hit the Visayas and Mindanao Tuesday night.
"Filipino solidarity is at its most potent amidst testing times," presidential spokesperson Edwin Lacierda said in a statement. "We call on our countrymen to give generously for the relief and well-being of our brethren in the Visayas and Mindanao who, themselves, generously came to the aid of Metro Manila and Luzon in previous calamities."
Lacierda said the typhoon victims, many of them currently staying in evacuation centers, mostly need woven mats (
banig
), children's clothing, blankets, plastic sheets, flash lights and batteries.
He said tarpaulins are also needed as they can be used for temporary roofing in several evacuation sites, as well as generator sets to provide electricity to the centers.
In Metro Manila, these goods and donations may be delivered to the National Resource Operations Center of the Department of Social Welfare and Development (DSWD) located along Chapel Road in Pasay City. The center could be contacted through (02) 8528081.
Lacierda said a listing of donation drop-off centers for the rest of Luzon, Visayas, and Mindanao will be announced soon.
For more information, the public may visit the Crisis Response Page for Typhoon Pablo (
http://www.gov.ph/crisis/typhoon-pablo/
), the Official Gazette Facebook page at (
https://www.facebook.com/govph
), and follow @govph, @ndrrmc_opcen, and @dswdserves on Twitter.
He said social media coordination of relief efforts is being spearheaded and promoted by the Presidential Communications Development and Strategic Planning Office.
"On Twitter, we enjoin netizens to use the hashtag #reliefPH to amplify information on what is needed by our countrymen in the wake of Typhoon Pablo. For additional information, please tweet or message @dswdserves," said Lacierda.
The death toll from Typhoon Pablo (Bopha), the strongest cyclone to hit the country this year, went up to 238 as of Wednesday afternoon as it continued on its path from Mindanao to the Visayas and Palawan.
As of Wednesday noon, the National Disaster Risk Reduction and Management Council (NDRRMC) reported that 44,954 families or 213,502 people have been affected by the typhoon.
The DSWD has released P1.2 million to help the victims, while local government units provided P2.04 million.
— Amita O. Legaspi/KBK, GMA News