'Pablo' death toll over 300; 3 areas under state of calamity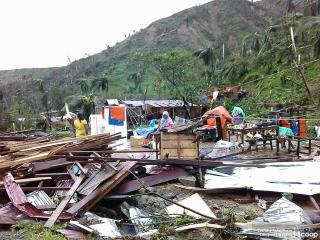 'Pablo' flattens homes in Northern Mindanao. Residents recover what's left of their belongings after their homes were destroyed at the height of Typhoon Pablo (Bopha) in Monkayo, Compostela Valley on Tuesday. Authorities reported on Wednesday morning that 82 people perished at the height of Pablo's fury. Cerrone Roial Posas via YouScoop
They didn't seem to know what hit them. Mindanao provinces that have rarely been in the path of a storm suffered heavily from the impact of Typhoon Pablo (Bopha) on Tuesday, and its full extent is only now coming to light.
Some residents in Davao Oriental took shelter in flimsy evacuation centers that fell apart in the face of Pablo's ferocious winds, with one refuge reportedly swept away in a landslide with its terrified evacuees.
There was enough warning of the coming typhoon for authorities to evacuate residents in advance, but there was apparently a lack of solid structures in communities in rural southern Mindanao to serve as temporary shelters.
The hardest hit provinces of Surigao del Sur, Davao Oriental, and Compostela Valley have been placed under a state of calamity.
"We have 325 dead and this is expected to rise because many more are missing," civil defense chief Benito Ramos told a news conference.
He did not give a fresh total for the number of missing after Typhoon Bopha ravaged the southern island of Mindanao on Tuesday.
However, he noted that both figures were "rising rapidly from single- to triple-digits" as rescuers reach more remote areas.
Shortly before the latest announcement, Ramos' office, the National Disaster Risk Reduction and Management Council, had put out a tally listing 322 dead and 328 missing.
"Communications are bogged down, there is no electricity, roads and bridges have been destroyed," Ramos said.
"We're still on a search-and-rescue mode," he added.
NDRRMC data
In its 11:30 p.m.
update
Wednesday, the NDRRMC also said 401 people were injured, while 378 are still missing in the wake of the typhoon.

Among the most recent reported fatalities were those from Cebu and Compostela Valley, the NDRRMC said.
The agency said Typhoon Pablo had affected 48,317 families in 25 provinces. A total of 38,084 families remain inside 397 evacuation centers.
As of 11 p.m. Wednesday, the NDRRMC said 3,531 passengers were stranded along with 496 rolling cargoes, 105 vessels and 19 motor bancas.
At least six bridges and 14 roads were damaged, hindering the transport of relief goods to devastated areas.

Power had been restored in Bohol but Siquijor island, Negros Oriental, and parts of Cebu still experienced power outages a day after the storm had swept across these areas.
At least 1,400 houses were destroyed in Region 10 and Caraga, while 1,570 were damaged.
Evacuation centers "not well-built"
Despite the preemptive evacuation of residents hours before landfall, poorly built evacuation centers may have been the weak link in the response of authorities in Davao Oriental province to the threat from Typhoon Pablo.
Maj. Gen. Ariel Bernardo, head of the Army's 10th Infantry Division, said Wednesday that some of the evacuation centers in the province collapsed.
"Doon sa Davao Oriental and even sa Compostela Valley, nagkaroon ng preemptive evacuation Monday night ... Sad to say sa Davao Oriental ... sa lakas ng hangin, ulan at bagyo, talagang evacuation center may nag-collapse. They were not enough," he said in an interview on dzBB radio.
Citing figures reaching him, he said 115 people died in Davao Oriental, 148 were injured, and 21 were missing.
When asked if Davao Oriental's officials may not have been ready for such evacuation because the area had not been hit by typhoons before, he only said the structures were inadequate for sheltering refugees.
"Ang structures nila, hindi well-built to withstand (storms), hindi gaya sa Bicol," he said.
For now, Bernardo said their priority is to get cadaver bags for the fatalities.
Typhoon Pablo plowed through Mindanao and Visayas on Tuesday after making landfall in Davao Oriental. State weather forecasters said it may exit the Philippine Area of Responsibility by Friday.
Stunned survivors
Corn farmer Jerry Pampusa, 42, and his pregnant wife were marooned in their hut but survived.
"We were very scared," Pampusa said. "We felt we were on an island because there was water everywhere."
Another survivor, Francisco Alduisa, said dozens of women and children who had taken shelter in a village center had been swept away.
"We found some of the bodies about 10 km away," Alduisa told Reuters. The only building left standing in his village was the school.
Another survivor, Julius Julian Rebucas, said his mother and brother disappeared in a flash flood.
"I no longer have a family," a stunned Rebucas said.
An army commander said two dozen people had been pulled from the mud in one area and were being treated in hospital.
About 20 typhoons hit the Philippines every year, often causing death and destruction.
Almost exactly a year ago, Typhoon Sendong (Washi) killed 1,500 people in Mindanao.
— with Reuters/ELR/HS, GMA News