US to provide $100k in relief assistance to areas hit by 'Pablo'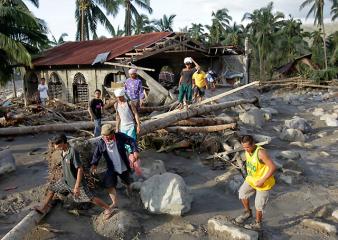 Total devastation in New Bataan. Residents walk on debris-littered road on Wednesday after flash floods triggered by Typhoon Pablo (Bopha) in New Bataan, Compostela Valley on Dec. 4, 2012. Blocked roads and severed communications in northern Mindanao frustrated rescuers as teams searched for hundreds of people missing after the strongest typhoon this year killed more than 300 people. Reuters/Erik De Castro
The United States is providing $100,000 to support disaster relief efforts in typhoon-battered areas in the Philippines, its embassy in Manila said Thursday.

The US assistance, to be coursed through the non-government organization Catholic Relief Services, aims to help victims of Typhoon Pablo (international name Bopha), which slammed Visayas and Mindanao early this week and killed over 300 people and left hundreds missing.

Following consultations with Philippine officials, US Embassy Chargé d' Affaires Brian Goldbeck offered to provide immediate relief assistance to those affected by the typhoon.

The USAID's Foreign Disaster Assistance (USAID/OFDA) and USAID-Philippines will conduct humanitarian assessments in typhoon-affected areas like Davao and Cagayan de Oro in Mindanao, Negros Oriental Province in the Visayas, and Palawan in Luzon in the coming days to determine where this assistance is most needed.

"On behalf of the United States government, we extend our deepest condolences for the devastation and loss of life caused by Typhoon Pablo in the southern Philippines," Goldbeck said in a statement.

"We applaud the efforts of local communities, local authorities and the NDRRMC to evacuate citizens, prepare for the storm, and minimize loss of life before and during the storm. Our thoughts and prayers are with all of those affected," he said.

The US has been a key partner of the Philippines in providing immediate humanitarian response during natural calamities.

Through the years, it has helped the country cope with the effects of calamities by improving mechanisms to effectively adapt and respond to natural disasters.

It has so far provided approximately $11.7 million in disaster response assistance over the past five years.

This includes assistance during Tropical Storm Ondoy in 2009, Typhoon Juan in 2010, and Storm Sendong in 2011.

Beyond donations for immediate disaster relief, the US Embassy said, it has also supported local governments and communities to prevent and reduce the impact of typhoons and other natural disasters.

In 2012, the US provided over $4.1 million for disaster risk reduction activities in the Philippines.

Japan likewise pledged aid to the Philippines, saying it will extend any necessary assistance.

The Japanese government conveyed this in its message to President Benigno S. Aquino III and Foreign Secretary Albert del Rosario on Wednesday as it expressed condolences and sympathies for the loss of many lives and massive destruction caused by the storm.
Canada and the European Union have also offered support to the government's disaster relief efforts.
— Michaela del Callar/RSJ, GMA News