Aid for 'Pablo' victims continues to pour in as Australia, Canada make pledges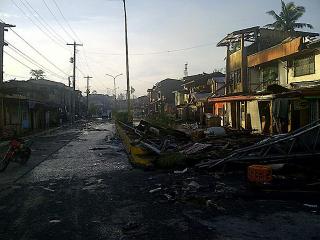 'Pablo' turns Monkayo into no man's land. A deserted debris-littered street in Monkayo, Compostela Valley is transformed into a virtual no man's land on Thursday after Typhoon Pablo (Bopha) devastated many towns in northeastern Mindanao on Dec. 4. Hadji Rieta
(Updated 3:29 p.m.)
Humanitarian assistance for the victims of Typhoon Pablo (Bopha), the strongest to hit Mindanao in two decades, continued to pour in on Friday as Australia and Canada pledge to give P210 million and P10 million, respectively.
Australian Foreign Minister Bob Carr on Friday announced his country will make available up to P210 million (roughly AUD5 million) in life-saving and early recovery assistance to help Filipinos affected by the typhoon.
Of the amount, P38.5 million will immediately be made available to the Philippine Red Cross for emergency family kits that include sleeping mats, mosquito nets and water containers; and another P43 million to the World Food Program for 1,000 tons of rice.
Australia will also make available P4 million through the United Nations Population Fund for hygiene and health kits for people in evacuation centers.
The remaining P126 million will be made available for additional recovery and relief needs.
As part of its disaster preparedness program in the Philippines, Australia works with partners to pre-position emergency supplies.
"On behalf of the Australian Government and people, I extend heartfelt sympathies for the loss of lives and destruction resulting from this devastating typhoon," Australian Embassy Chargé d'affaires Andrew Byrne said in a press statement.
"We commend the Philippine government for its preparedness and response. We will continue to work with the government and other partners so they can draw on Australian assistance as needed," Byrne added.
As one of top donors, Australia's total annual aid to the Philippines is approximately PHP5.5 billion.
Also on Friday, Canada announced it will give P10 million or CAD250,000 for victims of Typhoon Pablo.
''Canada is deeply concerned about the devastation caused by Typhoon Bopha and its impact on the people of the Philippines,'' Minister for International Cooperation Julian Fantino said in a press statement.
Canada's assistance to some 50,000 people affected by Typhoon Pablo will be given through the Canadian International Development Agency (CIDA).
"We are working with the International Federation of the Red Cross and Red Crescent Societies and the Philippine Red Cross to ensure that concrete steps are taken to alleviate suffering and the immediate and ongoing needs of those affected are met," Fantino said.
This support will help meet immediate and long-term needs by providing drinking water, food, and other much-needed relief items, and by preventing disease and providing support to families.
Also, a United Nations disaster and assessment team, which includes a Canadian delegate whose deployment is funded through an ongoing CIDA project, has been deployed to help with the rapid needs assessments.
The government of Canada will continue to monitor the situation closely to ensure basic human needs are met and provide further assistance if required.
Meanwhile, Israel on Friday condoled with the victims of Pablo and voiced hopes they will overcome their loss.
Ambassador Menashe Bar-On also commended the Philippine government for managing to minimize the loss of lives wrought by Pablo.
"The government of Israel and its people expresses their solidarity with the those affected by typhoon Pablo and we offer our condolences and sympathies to the families who have lost their loved ones," he
said
on the Israel Embassy's Twitter account.
He also
said
Israel "extends its hand to the Philippine government and the Filipino people as they overcome the damage brought about by the typhoon."
Bar-On
also said
Israel hopes "the families, especially the children, will overcome the physical and emotional damages brought upon them."
Earlier, the United States
said
it will be providing US$100,000 to support disaster relief efforts.
As of December 7, the
death toll
from Pablo rose to 418. Of the number, only 73 have so far been identified. A total of 383 people are still missing.
Damage caused by Pablo is pegged P4,001,924,688.02, including P630.970 million in infrastructure, P3,365,534,688.02 in agriculture, and P5.42 million in private property.
— LBG/RSJ, GMA News