PBA: Simon drops 27 as San Mig downs GlobalPort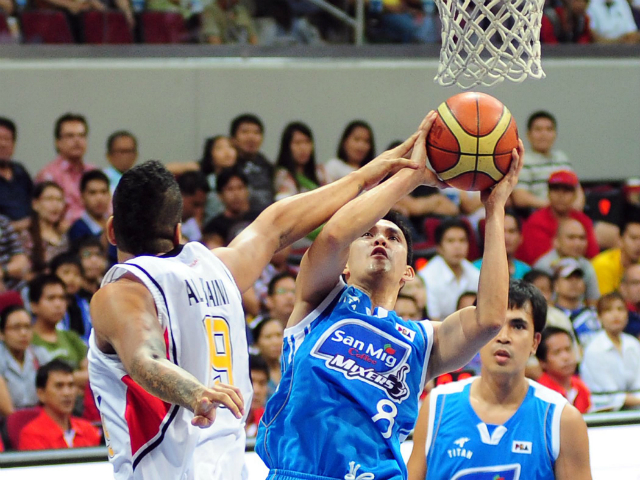 San Mig's PJ Simon (center) drives against GlobalPort's AJ Mandani (L) as Yancy De Ocampo looks on.
Photo by KC Cruz
Down by five heading into the fourth, the San Mig Coffee Mixers sparked a 13-0 run to start the payoff period, to down GlobalPort Batang Pier, 107-96, at the SM MOA Arena on Friday, clinching a twice-to-beat advantage in the quarterfinals along the way.
"That wasn't pretty. It's a lot harder than some people see from the outside. There's just no easy game in the PBA," said San Mig head coach Tim Cone.
At 10-3, with a game left to play, San Mig Coffee locked up the number two seed in the quarterfinals, giving them a twice-to-beat advantage against seventh-seeded sister team Petron Blaze.
Meanwhile, their opponent, GlobalPort, bowed out of the Philippine Cup with a 1-13 record.
After leading by as much as 11 points, an upset-minded GlobalPort entered the second half with a slim two-point advantage, 49-47. The Coffee Mixers quickly pounced on Batang Pier, as an 11-2 run established a 58-51 lead for Tim Cone's squad at the 8:03 mark.
A Vic Manuel conversion followed by a Gary David trey kept GlobalPort close, 58-56, before Yancy De Ocampo joined the scoring barrage with his own shot, 60-56.
Rabeh Al-Hussaini then went to work for GlobalPort with six straight points to tie the game, before AJ Mandani scored on the fast break to give Batang Pier the lead at the 2:53 mark, 70-68.
The two teams battled for several lead changes, before Jason Deutchman and Willie Miller ended the third with a 6-0 run, 78-73.
In the fourth, San Mig turned up their defense, forcing GlobalPort to commit turnovers off their full court press. After four straight from Simon and Rafi Reavis, Joe Devance split from the line at the 11:06 mark to tie the game at 78-all.
A Mark Barroca steal and lay-up put San Mig ahead, followed by Simon hitting back-to-back shots to put the Coffee Mixers up six. A pair of Barroca free throws ended the run for San Mig with 9:23 to go, 86-78.
GlobalPort went back to Al-Hussaini, before Simon and Rafi Reavis combined for five for an 11-point lead, 91-80. Batang Pier responded with a 6-0 run of their own, after a Gary David drive and a pair of Al-Hussaini conversions, 91-86, but Barroca was there to hit a clutch jumper to stop the scoring burst, 93-86.
After a Marc Pingris slam at the 5:01 mark, Barroca and Reavis scored four more, before Al-Hussaini and David battled back for GlobalPort with 2:38 left, 99-92.
A Gary David missed trey marked the final two minutes of the game, where San Mig strung six more points to go up 13, 105-92. David and Deutchman combined for four in the final minute, before an Aldrech Ramos conversion ended the game, 107-96.
Super-sub PJ Simon scored 27 points off the bench in just 21 minutes, hitting 9-of-13 field goals and 8-of-9 from the stripe. He also added six rebounds, two assists and two steals.
Big men Yancy De Ocampo and Marc Pingris combined for 32 points and 25 rebounds, while former FEU standouts Mark Barroca and Aldrech Ramos had 12 and eight markers, respectively.
Gary David top-scored for GlobalPort with 22 points, although he made just one triple. Rabeh Al-Hussaini added 20 points, while Jason Deutchman and Willie Miller had 13 apiece, with 'The Thriller' chipping in eight rebounds and seven assists as well.
Rebounding proved to be the key for the game, as the Coffee Mixers hauled in 62 rebounds, 20 on the offensive end, compared to the 41 for GlobalPort, 10 offensive.
The Coffee Mixers actually have one more game remaining, a non-bearing match against the Meralco Bolts, on Sunday.
- RAF, GMA News
The scores:
San Mig Coffee 107 – Simon 27, De Ocampo 18, Pingris 14, Barroca 12, Ramos 8, Yap 8, Reavis 7, Devance 5, Intal 4, Villanueva 4, Gonzales 0.
Globalport 96 – David 22, Al-Hussaini 20, Deutchman 13, Miller 13, Mandani 10, Salvador 6, Guevarra 4, Raymundo 2, Manuel 2, Lingganay 2, Yee 2, Vanlandingham 0.
Quarters: 20-27; 47-49; 73-78; 107-96