Defining the boundaries of young adult literature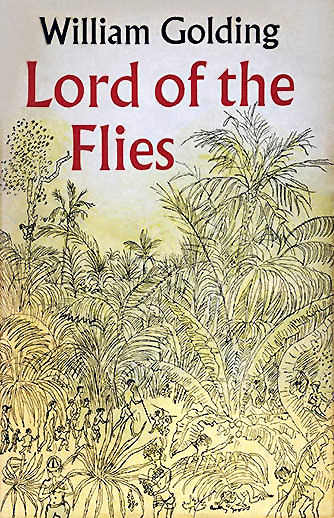 William Golding's unsentimental, unsettling view of childhood is a modern classic and a staple of school reading lists.
How many times have you read "Hansel and Gretel" to a child, and how many times have you ever really thought about the story you are telling? If you deconstruct it, "Hansel and Gretel" is a disturbing tale that involves cannibalism, child abandonment and murder.
But you don't hear kids telling you that Hans and Gretel should be arrested. In what author Ursula K. LeGuin calls "fairy tale morality," their actions can be considered self-defense, and this is, very likely, how kids will process that particular turn of events in their heads.
But if even fairy tales are actually dark stories, what is appropriate for children and young people to read?
There doesn't seem to be a definitive answer to that question. Books do not come with the literary equivalent of a movie rating, and even the classification system that publishers and librarians follow cannot guarantee that young people will not read something that their parents may deem inappropriate.
The relativity of appropriateness
"Inappropriate," of course, is a relative term. Some parents can be quite liberal about what they will allow their kids to read, while there are those who will balk at even just a mention of
Harry Potter
("Witchcraft!"),
Twilight
("Romancing the undead!"), or
The Hunger Games
("Televised murder!") in their homes.
The relativity of appropriateness is part of the very nature of children's and young adult (YA) literature because, as author Ken Spillman (
Blue: A Novel
,
Love is a UFO
) explains, it is not a genre that is conceived by children for children, but one that is determined by what adults perceive are best for them.
But even this perception evolves over time. William Golding's
Lord of the Flies
, which was published in 1954, talks about human nature and the loss of children's innocence. It was originally written for adults but is now part of school reading lists. The same is true for J.D. Salinger's seminal work,
The Catcher in the Rye
, whose stream of consciousness narrative influenced many other YA books since.
Spillman, who was one of the speakers in the module "How Far Can You Go: Writing for Young Adults" at the Read Lit District conference (the 2012 Philippine International Literary Festival) held last month, adds that what is considered appropriate also differs across cultures, as illustrated by how societies perceive adolescence—in Western societies, it is marked by "rebellion and experimentation," while in Asian societies, it is about "learning, maturity, and accepting adult responsibilities."
How far can you go?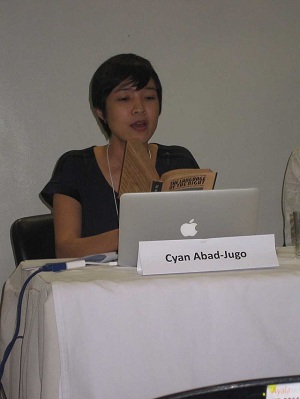 YA novels often employ slantwise truth-telling, says YA author Cyan Abad-Jugo.
With YA being such a big—if not the biggest—market in recent years, authors and publishers are more conscious than ever of the boundaries of the genre. They are also more willing now to push those boundaries as far as they could go. But how far can you go when it comes to YA and children's literature?
Cyan Abad-Jugo reveals that authors very rarely just sit down and one day decide to write a YA book about difficult issues like rape or war or sickness. They are concerned, first and foremost, about the story they want to tell and how best to tell it.
That doesn't mean, of course, that authors are entirely devoid of any ethical responsibility towards readers. Abad-Jugo says that the genre is still defined by stories that are "within the range of experience of any child, but what child hasn't experienced or come near the experience of something negative?"
The treatment of the story and how it is presented is equally important as the story itself. As with the old fairy tales, most YA books these days use fantasy elements as metaphors for subjects like adolescence, romance, and coming-of-age. Contemporary YA novels are more straightforward, but they often employ what Abad-Jugo calls "telling the truth, but telling it slant."
In her own book, "Salingkit: A 1986 Diary," she talks about the horrors of martial law, but filtered through the young protagonist's experiences.
"I did not tell Kitty's experience from her father's views of martial law, or her cousin's friend's encounter with the sniper," Abad-Jugo says. "Older readers can read between the lines—if your father goes missing during a rally in martial law, they would know already what else might have happened to Kitty's father. Kitty is always one step back or one person away from the actual experience."
In John Green's award-winning book, "The Fault In Our Stars," he slants the truth about the pain of being a teenager diagnosed with cancer by building the story around a romance that blossoms between two patients. It is, of course, no less heartbreaking, but a tragic love story tinged with hope is an easier pill to swallow than a downright depressing, almost medical tell-all of a patient's life.
Living vicariously through reading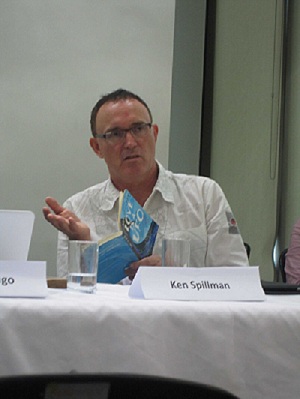 "We read about these things so that we do not have to go through it," says Ken Spillman of YA fiction. "We relate to it because at the emotional level, the journey is the same."
"We read about these things so that we do not have to go through it," Spillman explains. "Even if we are privileged and protected not to experience what we read about, we relate to it because at the emotional level, the journey is the same."
In Hansel and Gretel's case, children may not necessarily come near to becoming a witch's supper, but it is the characters' experiences and subsequent actions that make an impact.
"The darkness has to be faced…because more terrible than the villain outside and across from the protagonist is an even darker self inside," Abad-Jugo expounds. "But seeing this and admitting this fills a child with hope. Why? With self-knowledge, the child can see possibilities, make choices and decisions, and the child can now grow."
As times change, so does YA literature, and publishers are at the forefront trying to ride wave after wave of trends. By now, there is a veritable buffet of books to choose from, but for parents and educators to keep up, it is important to remember that discouraging kids from reading certain books may not be the perfect solution. (You know they'll just read those in secret.) Instead, it's better to know what the kids are reading, read with them, and talk to them about these books.
Abad-Jugo reminds us, "There could be worse things than trying to tell the truth to a child." And one of those things is to not read a book at all.
— BM, GMA News