'Solar cell stickers' let you slap on power where you need it
Who says solar cells have to be rigid and bulky? A team of researchers has created what could be the world's first peel-and-stick solar cells.
A team from Stanford University said the reusable, decal-like Thin-Film Solar Cells (TFSCs) can be attached to almost any surface.


Image source: Nature.com

"The peel-and-stick process provides a simple way for integrating TFSCs into buildings, clothes, and many other nonconventional substrates," the researchers
said
.
Researchers involved in the project included Chi Hwan Lee, Dong Rip Kim, In Sun Cho, Nemeth William, Qi Wang, and Xiaolin Zheng.
According to the researchers, the process involves integrating hydrogenated amorphous silicon paper, plastics, cell phone and building windows while maintaining the original 7.5-percent efficiency.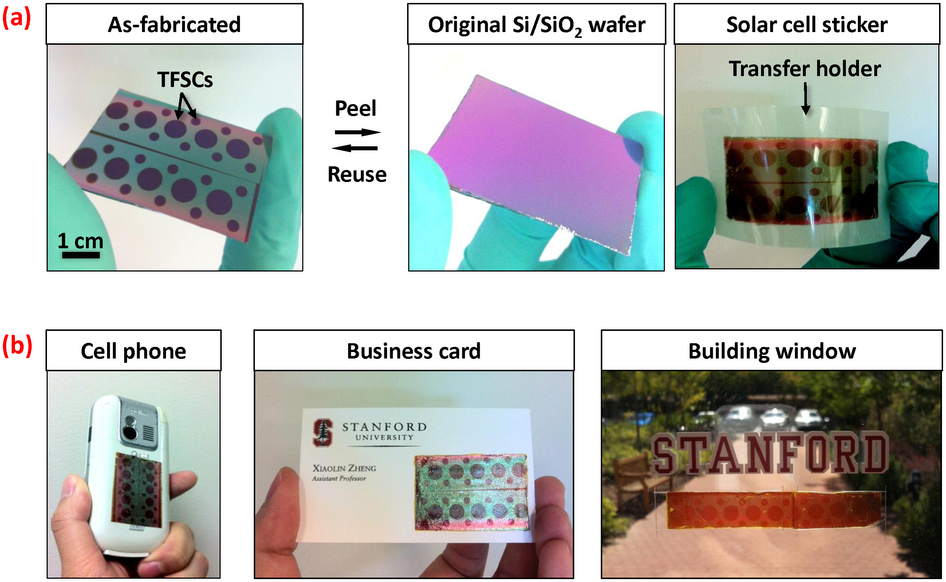 Image source: Nature.com

Such a new process "enables further reduction of the cost and weight for TFSCs and endows TFSCs with flexibility and attachability for broader application areas," they added.
"We believe that the peel-and-stick process can be applied to thin film electronics as well," they said.
A separate article on tech site Mashable said that while TFSCs had been produced on paper, textiles and rubber before, the strips were easily deformed during handling.
"The ultra-durable solar panels can also be used on a curved surface such as an undulating building roof, helmet or portable device. This process heavily reduces the cost and complications of production. The researchers also believe the peel-and-stick technology can be applied to other thin-film electronics including circuits, transistors and LCDs,"
it said
.
— TJD, GMA News