Bureau of Fire Protection website defaced
While its personnel are busy holding fire prevention campaigns for the New Year, the Bureau of Fire Protection had its website defaced by hackers on Thursday.
Visitors to the BFP website (www.bfpresponse.gov.ph) were greeted with a defaced page with the message "Hacked by Hayate DevilzSec."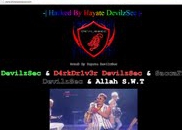 A screenshot of the Bureau of Fire Protection's website as of 8:24 a.m. Thursday. Hackers broke into the site and defaced it, just as the BFP was busy conducting fire prevention information drives in time for the New Year revelry. GMA News
"Owned by Hayate DevilzSec ... S4 DevilzSec & D4rkDr1v3r DevilzSec & SaccaFrazi DevilzSec & Allah S.W.T.," read the message on the defaced site.
The pointer in the window was changed into a cigarette while a video of a group holding a concert played in the background.
As of 8:29 a.m., the defaced page was still live.
The BFP has been busy in past days conducting information campaigns on fire prevention as the New Year draws closer.
On Wednesday, the BFP also inspected firecracker vendors in Metro Manila, and confiscated several illegal firecrackers.
Firefighters had also been kept busy fighting fires during the holidays, including two Christmas Day fires in San Juan and Quezon Cities that claimed at least seven lives.
— LBG, GMA News