Netiquette and the new Facebook privacy options
Facebook announced these changes in the same week that their photo-sharing service, Instagram, released its
new privacy policies.
New features

In an advisory, the new privacy settings includes a shortcut icon at the top right of the page, beside the Home tab.
Click the padlock icon to drop down a list of privacy options.
This icon has a dropdown menu showing the various privacy tools and settings from "Who can see my stuff?" to "How do I stop someone from bothering me?"
Worried about embarrassing photos tagged by friends? Untag in groups. Facebook also launched a new "Request and Removal tool for multiple photos you're tagged in."
You may also want to hide annoying posts on your timeline without being rude to friends who might have tagged you or posted something on your behalf.
But Facebook warned, "Things you hide from your timeline can still appear in news feed, search and other places on Facebook."
In an advisory,
Facebook said
, "Now your privacy, timeline and tagging settings are together with your account settings, so it's easier for you to get around."
Mashable also noted
that Facebook now makes it easier for users to monitor how their personal data travels across Facebook through Facebook's Open Graph.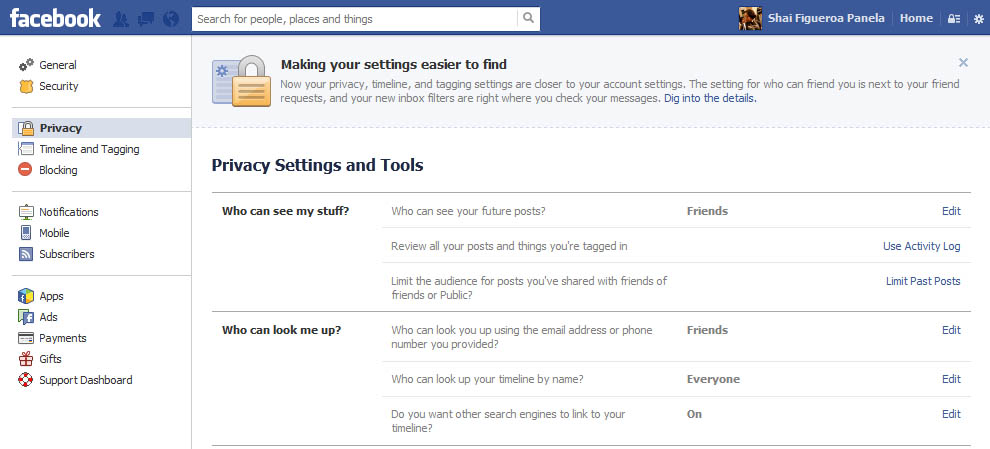 The privacy settings menu now contains more tools and options.
Zuck's sister falls victim
Ironically Randi Zuckerberg, the sister of Facebook CEO Mark Zuckerberg,
complained
about having her supposedly-private photos circulated online.
One of Randi's subscribers, Callie Schweitzer, publicly re-tweeted the Zuckerbergs' candid family photo, much to the dismay of Randi.
While their correspondence has already been deleted on Twitter, BuzzFeed screengrabbed their conversation showing that Randi was not happy at all having her photo reach too many people--way more than she intended to.
Here's the problem: Schweitzer is not only Randi's subscriber, but also friends with another Zuckerberg who was tagged in the photo.
Schweitzer still deleted her tweet with the photo, and Randi concluded that it was all about "netiquette."
As of this writing, Randi Zuckerberg has since posted a new tweet saying that she and Schweitzer are now on good terms.
Digital etiquette: always ask permission before posting a friend's photo publicly. It's not about privacy settings, it's about human decency

— Randi Zuckerberg (@randizuckerberg) December 26, 2012

Fwiw, I've been exchanging emails w/ @cschweitz & she seems lovely. The silver lining? Glad to see a thoughtful debate on sharing/etiquette.

— Randi Zuckerberg (@randizuckerberg) December 26, 2012
-- KDM, GMA News