PNP to investigate violations on rules of engagement in Quezon shootout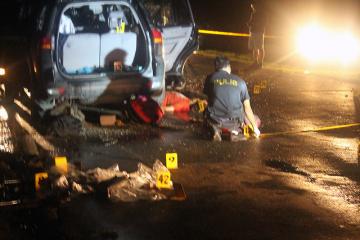 Environmentalist, lawmen among 13 killed in alleged Quezon shootout. A police investigator gathers evidence at the scene of an alleged shootout in Atimonan, Quezon on Sunday, Jan 6. Thirteen people, including an environmentalist, a police officer and alleged members of the ISAFP, were killed when the two SUVs they were riding in were fired upon by cops at a checkpoint. Police said the victims were members of a gun-for-hire group. GMA News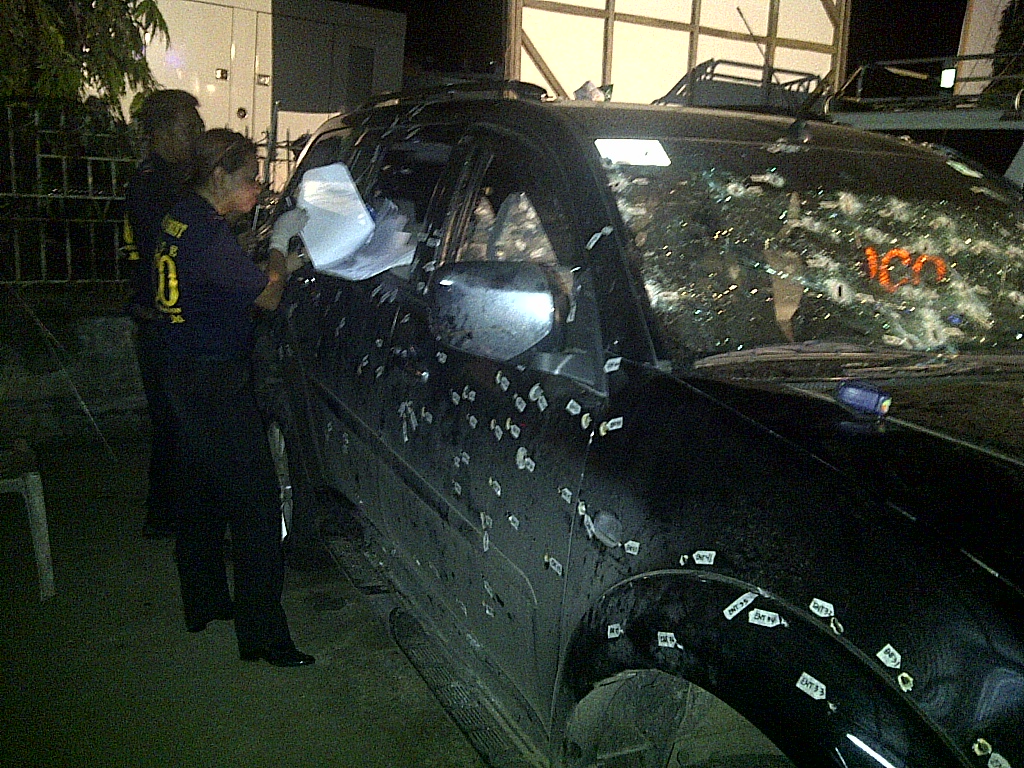 Scene of the crime operatives go over every detail of a bullet-riddled SUV from the Atimonan, Quezon shootout last Sunday.
The Philippine National Police is trying to determine whether officers manning a checkpoint in Atimonan, Quezon violated protocols and established rules of engagement when they killed 13 men in a shootout Sunday afternoon. Among those killed by the officers manning the checkpoint were an environmentalist, three police officers and a member of the Armed Forces.
"Based sa SOP namin on the conduct of checkpoints, whether established na checkpoints yan or whether hurriedly set up checkpoints yan, the SOP remains dapat diyan naka uniporme ang mga pulis," explained PNP spokesperson Chief Superintendent Generoso Cerbo in a briefing Tuesday. "Dapat yan led by an officer, dapat may signage, dapat may patrol car na naka standby kasi nga marked. And of course dapat nasa isang lugar na lighted."
Those
killed
were alleged to be members of a criminal gang. However, Jun Lontok was a respected environmentalist and community organizer in Quezon province.
Those killed in the shoutout were:
- Leonardo Catapang Marasigan, ISAFP
- Staff Sergeant Maximo Manalastas Pelayo, ISAFP
- Superintendent Alfredo Perez Consamino
- Armando Lescano of the Philippine Air Force's Air Education Training Command
- JP Valdez
- SPO1 Gruet Alinea Mantuano
- Victorino Siman Atienza Jr.
- Jerry Siman
- Conrado Decillo
- Victor Garcia Gonzalez
- Jun Lontok
- Paul Teojilag
- Jimbin Justiniani
Cerbo added that the PNP will specifically investigate whether the team leader of the checkpoint, Superintendent Hansel Marantan, was in civilian clothes at the time of the shootout, a violation of the said protocols.
"We will allow our ground commanders to explain kung totoo man kung bakit ganun," Cerbo said, "Tulad ng sinasabi natin, minsan sa engkwentro maraming pwede mangyari... titignan natin baka naman may valid explanation pero based on procedure pag conduct tayo ng checkpoint, dapat pong naka uniporme ang ating mga tropa."
Legitimate shootout
This is not the first time Marantan was involved in a controversial killing. In November 2005, then Senior Inspector Marantan, along with other policemen, was involved in an
alleged rubout
of three alleged car thieves: Francis Xavier Manzano, Anton Cu-Unjieng, and Brian Dulay.
The cops involved claimed that the three were killed in a legitimate shootout, and that officers were responding to the threat the three posed.
However, it was alleged that, rather than defending themselves, the police
summarily executed
the three alleged car-thievs inside their rented Nissan Exalta along Garner Street in Ortigas.
According to a Philippine Daily Inquirer report, the Office of the Ombudsman in 2009 ordered the filing of homicide charges against the police officers, contrary to the wishes of the victims' families who wanted the accused charged with murder.
In September that same year, the family of one of the victims filed a motion before the Ombudsman to reconsider the agency's resolution clearing the involved cops of any administrative liability and charging just five policemen with homicide.
The Ombudsman on July 11, 2011 denied the partial motion for reconsideration.
The agency then went on to file homicide charges against the police officers. The Inquirer story noted that the charges, though dated Jan. 6, 2009, were filed on Oct. 10, 2011.
A report from the Sun Star in March last year noted that the arraignment of five police officers for homicide, including Marantan, was postponed.
GMA News Online was unable to contact Marantan for comment.
Superintendent Erwin Obal, CALABARZON regional office spokesperson, told GMA News Online that he does not know the current whereabouts of Marantan, nor does he know how to contact him.
He also declined to comment on Marantan's involvement in the Ortigas shootout, saying he does not have pertinent information on the incident.
Cerbo himself acknowledged Marantan's affiliation with the Highway Patrol Group (then the Traffic Management Group), the police unit involved in the Ortigas killing, but said he does not fully know the officer's background.
'Ayoko ng whitewash at bolahan'
A fact-finding team headed by Criminal Investigation and Detection Group deputy director Chief Superintendent Federico Castro, Jr. had already been ordered by PNP chief Dir. Gen. Alan Purisima to invstigate the Atimonan killings.
The team will be assisted by officers from the PNP crime laboratory, Highway Patrol Group, Firearms and Explosives Office, Intelligence Group and other concerned units of the PNP, Cerbo said.
"To investigate the incident, to check the veracity of that official report from our ground commander at kung to decide finally whether meron bang breach of procedure, may mga violations ba, or, sabihin na natin, kung merong criminal acts ba na nangyari surrounding this encounter in Bgy Lumutan, Atimonan," he added.
Additionaly, Interior Secretary Mar Roxas II ordered the PNP to look deeper into the incident and determine why three police officers were among those killed.
"Gusto kong malaman nang klarong klaro kung ano talaga ang nangyari, ,at bakit may tatlong pulis at isang sundalong kasama sa mga hinihinalang criminal na napatay. Ang gusto ko ay ,katotohanan; ayoko ng whitewash at bolahan," Roxas said in a DILG statement.
Roxas also said his department will cooperate with the PNP, the National Bureau of Investigation, and the Commission on Human Rights as these organizations look into other angles, such as possible criminal liability on the part of those who took part in the operation.
Roxas said he will hold a press conference in Camp Crame on Wednesday to provide the public with the latest updates on the case.
GMA News Online contacted the Region IV-B (MIMAROPA) Police Regional Office to look into the backgrounds of the three policemen who were among those killed in the shootout.
Superintendent Imelda Tolentino of the office's public information unit said "lahat kami nagulat at nabigla" when they learned about their members who were killed, namely Superintendent Alfredo Perez Consemino, SPO1 Gruet Alinea Mantuano, and PO1 JP Valdez.
She cited intelligence reports from their office which noted Consemino, Valdez, and Mantuano had no previous "derogatory records" or involvement in any illegal activities.
Tolentino said Consemino and Valdez were on New Year break that started from December 30 last year and ended on January 6, while Mantuano was supposed to be on duty but was requested by Consemino to assist him.
"Di natin alam kung bakit sila nandoon," Tolentino said, and said her office is also waiting for the result of the fact-finding investigation by the PNP.
Consemino was the acting group director of the regional headquarters service group in their office prior to his death, Tolentino said. Before this, he was the chief of the regional operations and plans division.
Meanwhile, Mantuano started his police duties in 2002, while Valdez began in 2010, according to Tolentino.
GMA News Online also tried to contact MIMAROPA police regional director Chief Supt. Melito Mabilin for comment, but was unable to do so.
— DVM, GMA News