Investigators begin probe into Quezon shootout with reenactment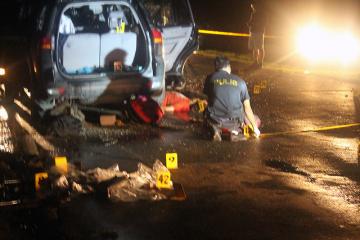 Environmentalist, lawmen among 13 killed in alleged Quezon shootout. A police investigator gathers evidence at the scene of an alleged shootout in Atimonan, Quezon on Sunday, Jan 6. Thirteen people, including an environmentalist, a police officer and alleged members of the ISAFP, were killed when the two SUVs they were riding in were fired upon by cops at a checkpoint. Police said the victims were members of a gun-for-hire group. GMA News
Investigators started on Tuesday afternoon their probe into the alleged shootout that killed 13 men in Quezon province by reenacting the incident in the scene itself.
Pieces of shattered glass and the smell of dried blood greeted investigators as they started the reenactment, according to a report on dzBB radio.
The investigators also managed to recover from the scene in Atimonan town in Quezon at least two more slugs from an M-16 rifle, the report added.
"Kami ay nagsasagawa ng re-enactment, ang namumuno si Chief Superintendent Federico Castro. He is directing all the working committeesr," Quezon provincial police chief Senior Superintendent Valeriano de Leon said in an interview on dzBB.
Castro is the head of a fact-finding board created by the Philippine National Police to look into allegations that Sunday's incident was an execution rather than a shootout.
Also investigating the incident are the Commission on Human Rights, PNP Scene of the Crime Operatives, and National Bureau of Investigation.
In a separate interview on dzBB, CHR chairperson Loretta Ann Rosales said a team from the CHR's Southern Luzon office was also taking part in the reenactment.
Police in Quezon said the incident was a shootout with members of a criminal gang engaged in gun-for-hire activities.
The 13 fatalities included lawmen and an environmentalist. The PNP created a fact-finding board to look into claims the shootout may have been a rubout.
— DVM, GMA News