Nazarene devotees leave piles of trash at Quirino Grandstand, Quiapo Church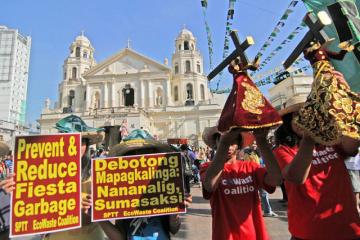 Group wants litter-free Black Nazarene feast. Members of the EcoWaste Coalition environmental group on Sunday appeal to devotees as well as vendors around Quiapo Church in Manila to avoid littering the streets during the Feast of the Black Nazarene procession on Jan. 9. Danny Pata
Devotees of the Black Nazarene again left behind on Wednesday piles of trash at major venues of this year's Feast of the Black Nazarene.
Garbage piled up at the Quirino Grandstand where the vigil and Mass in honor of the patron was held, according to a report by radio dzBB's Carlo Mateo.
A separate dzBB report said trash piled up as well near the Quiapo Church, where devotees attended hourly Masses in honor of the Black Nazarene.
Like in past years, much of the garbage left behind by some devotees included food wrappers and containers.
Ecological groups over the weekend had appealed to the devotees not to leave behind garbage and keep this year's festivities clean.
Thousands of Filipinos attended Tuesday's "pahalik" and vigil at the Quirino Grandstand, many of them joining the yearly procession to Quiapo Church. — ELR, GMA News