Ferry accident in New York injures 57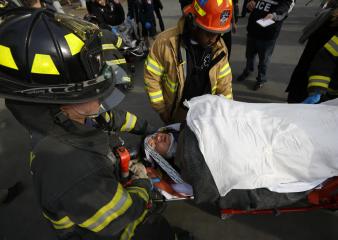 New York City firemen carry a victim of NYC commuter ferry crash. A commuter ferry crashed into a pier in lower Manhattan early Wednesday, injuring 57 people, one critically, the New York City Police Department said. Passengers lying on stretchers littered the pier near South Street Seaport, attended to by firefighters and rescue workers who rushed to the scene of the 8:43 a.m. (1343 GMT) hard landing. Reuters
A high-speed commuter ferry crashed into a pier near Wall Street at the height of the morning rush hour on Wednesday (Thursday, January 10 in PHL), injuring 57 people, two critically, the New York City authorities said.
Passengers lying on stretchers littered the pier near South Street Seaport, attended to by firefighters and rescue workers who rushed to the scene of the 8:43 a.m. (1343 GMT) hard landing. Mayor Michael Bloomberg rushed to the scene.
"It just hit ... it just didn't stop. And then it lifted a little bit and it pulled up and I think the Captain said call 9-11 we need help," said eyewitness Dee Wartz.
The boat's crew immediately responded to the scene of injured and bloodied passengers.
Some of the injured were taken to the hospital, while others were treated at the scene, a spokesperson for the Fire Department of New York said.
Of the 57 people injured, two were in critical condition with head injuries, nine were serious, seven were guarded, officials said.
Jacqueline Wegner was also standing on the pier at the time of the accident and said there was "lots of blood and somebody had a broken hand. You could visibly see his hand was broken. One man was hunched over. His neck was hurt, his back was hurt. They must have put 40 people on a stretcher."
Brett Cebulash was a passenger on board at the time of the accident. The 50-year-old attorney is a daily rider on the 141-foot ferry that caters to white-collar executives.
"It was just very sudden. It was a normal morning. You know we were easing into the dock and it just seemed that they didn't have the reverse thrusters. They didn't do what they normally do. It was just a shock. A shocking thing to happen because I've ridden the boat hundreds of times and obviously nothing like this ever happened."
The National Transportation Safety Board tweeted that its investigators were gathering information about the cause of the crash.
About 326 people were aboard the boat on Wednesday, said Janette Sadik-Khan, Department of Transportation commissioner.
The accident occurred as commuters queued up to quickly disembark the craft and start their workday.
— Reuters