Nazarene procession ends after 18 hours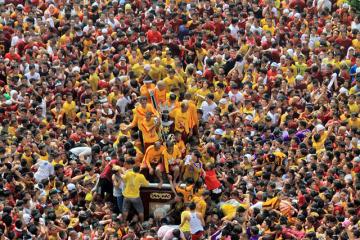 More devotees join Black Nazarene 'Translacion' . The annual January religious procession that ends at Quiapo church is one of the largest annual gatherings in the world and is one more indication of Filipinos' fervent religiosity, unique for a Catholic country.The procession on Wednesday began in Luneta and will wind through the streets of Manila with as many as 11 million participants and spectators, according to the police. Danny Pata
This year's procession of the Black Nazarene ended peacefully after 18 hours, with the image of the patron brought back to Quiapo Church at 1:36 a.m. Thursday.
Police said the entire procession was "generally peaceful," marred only by a few incidents of petty crimes, radio dzBB's Roland Bola reported.
Manila Police District Station 3 head Superintendent Ricardo Layug Jr. was quoted in the report as saying there was no major untoward incident in the procession, which started at 7:30 a.m. Wednesday.
Last year's procession ended in the morning of Jan. 10, and took some 22 hours to complete due to a breakdown of the carriage bearing the image.
Devotees at the Quiapo Church and Plaza Miranda cheered as the image of the Black Nazarene, believed to have miraculous powers, arrived.
More than 1k devotees get medical treatment
More than 1,000 devotees who took part in activities at the Feast of the Black Nazarene received medical treatment as of Wednesday evening, the Red Cross said.
In a post on its Twitter account, the Philippine Red Cross said that as of 6 p.m., it attended to 1,428 patients.
Blood pressure: 560
Minor injuries: 826
Major cases: 35
Transported to hospitals: 7
While the Red Cross did not elaborate on minor and major cases, it said three of those brought to hospitals were brought to the Philippine General Hospital, and four to the Ospital ng Maynila.
National Epidemiology Center head Dr. Enrique Tayag, meanwhile, said they recorded 264 medical consultations as of 10:26 p.m.
An additional two were rushed to a hospital for a crushed foot and seizures, he said. — ELR, GMA News