Quiapo a virtual dumpsite after Black Nazarene procession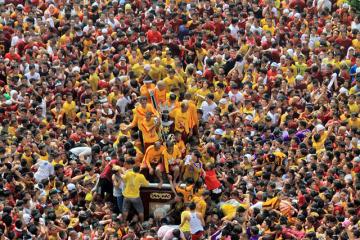 More devotees join Black Nazarene 'Translacion' . The annual January religious procession that ends at Quiapo church is one of the largest annual gatherings in the world and is one more indication of Filipinos' fervent religiosity, unique for a Catholic country.The procession on Wednesday began in Luneta and will wind through the streets of Manila with as many as 11 million participants and spectators, according to the police. Danny Pata
Some 20 trucks of garbage were collected in the Quiapo area after millions of devotees flocked to the area for the annual Feast of the Black Nazarene, disregarding an appeal by a pollution watchdog group to keep the celebration litter-free.
The garbage were collected from Plaza Miranda, C.M Recto Avenue, Quezon Boulevard and streets near the Quiapo Church, a report on GMA News TV's "Balitanghali" on Thursday quoted street sweepers as saying.
Most of the garbage were plastic bags, plastic bottles and cups, plastic straws, polystyrene food and beverage containers, food wrappers, cigarette butts and bamboo skewers, the report said.
"Plastic marami. Matagal [kami bago natapos] kasi marami at saka malawak 'yung area, maraming kalat," Archiqe Reville, a street sweeper from the Metropolitan Manila Development Authority (MMDA), told GMA News in an interview.
Some nine million devotees joined the Black Nazarene procession Wednesday, according to police estimates.
Tin Vergara, zero waste campaigner of pollution watchdog EcoWaste Coalition, was dismayed that the devotees did not heed their
appeal
for a litter-free celebration of the feast.
"We are dismayed by the immense trashing of the entire processional route from Quirino Grandstand in Rizal Park to Plaza Miranda in Quiapo during the feast day as if littering is an essential part of our devotion to the Black Nazarene," she said in a statement.
"Time and again, our spiritual fervor for the eminent Black Nazarene has not been manifested in our consequent actions as we continue to defile the streets passed by the procession," she added.
A virtual dumpsite
The group said in Rizal Park, devotees who attended an overnight vigil turned the 10-hectare open field facing the Quirino Grandstand into a virtual dumpsite as they left piles of garbage shortly after the procession started subsequent to the early-morning Mass.
The group said the acts of some devotees was a violation of Republic Act 9003 or the Ecological Solid Waste Management Act which regards littering in public places among others as a prohibited act punishable by a fine of ₱300 to ₱1,000 or one to 15 days of community service, or both.
Despite the prevalent littering, the EcoWaste Coalition lauded the waste pickers and eco-volunteers from the government and civil society groups who immediately cleaned the areas along the procession and retrieved recyclable items from the garbage that nearly covered the streets.
"We salute the waste pickers, who readily look after the immediate recovery of discards that could have ended up in canals, dumps, or burned; wasting valuable resources, polluting the environment, and endangering the health of the people," said Rey Palacio, Informal Waste Sector (IWS) Project Officer.
Among those who took part in the clean-up were volunteers from the church, schools and non-government organizations.
"We look forward to next year's feast with the same spiritual devotion that we have for the Black Nazarene but with an increased sense of environmental stewardship and ecological discipline," EcoWaste Coalition said.
— Amita O. Legaspi/KBK, GMA News