Donaire-Rigondeaux probable for April says Arum, but he's still holding out hope for Mares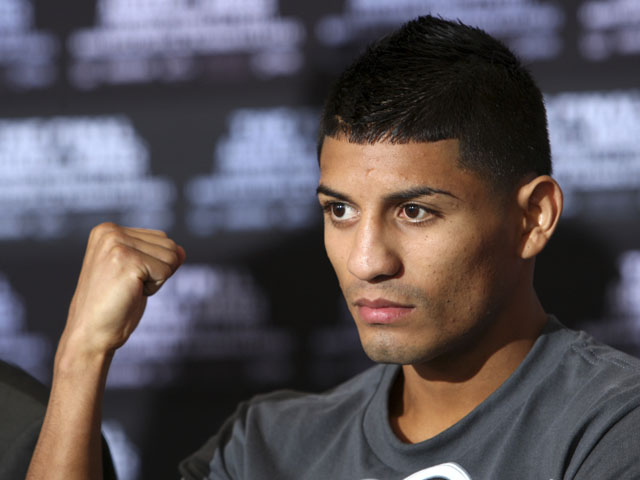 Abner Mares (pictured) versus Nonito Donaire would be a dream fight, but can the promoters get together to make it happen?
Steve Marcus / REUTERS
NEW YORK - Top Rank CEO Bob Arum, who promotes The Ring junior featherweight champion Nonito Donaire Jr., is still holding out hope that a deal with rival group Golden Boy Promotions can be made to match Donaire with unbeaten WBC junior featherweight titleholder Abner Mares. Arum says he is looking at April 27 for Donaire's next fight, and if a deal can't be reached with Mares, then they'll look to pit Donaire with WBA titleholder and fellow Top Rank fighter Guillermo Rigondeaux.
"If we can free up Mares, that'd be a good fight," Arum, whose company also promotes Manny Pacquiao, told GMA News. "If not, then probably Rigondeaux."
Arum, who is in New York City to promote Saturday night's world title tripleheader card at Madison Square Garden, says that Mares' manager Frank Espinoza reached out to Arum about making the unification fight, but that hurdles with Golden Boy must be cleared before a deal can be made. The biggest hurdle would seem to be who would serve as lead promoter for the event.
"Frank Espinoza called me, he said, 'I want Mares to fight Donaire.' I said, 'Fine, you have to talk to [Golden Boy CEO Richard] Schaefer because you're under contract with Golden Boy. He said, 'What are you proposing?' I said, 'I will give Schaefer and Mares, and I mentioned a sum of money.' He said, 'That sounds good, I'll talk to Schaefer.'
"Now, what does that mean? That means business decisions regarding that fight would be made by us, because we have contracts with Philippine television, contracts that we have to deliver on. They will have all the rights of a co-promoter regarding press conferences, representation before the commission and so forth. But that's the only way a fight like that can get done. It's not a question of 'they can't deal with them...,' that's bullshit. There are legal issues that have to be sorted out."
Espinoza declined to comment on the matter.
Donaire (31-1, 20 knockouts) of San Leandro, California, is coming off a banner year in 2012, in which he moved up to 122 pounds and won four world title fights. The four-division world champion who was born in Talibon, Bohol in the Philippines is currently rated as the number five pound-for-pound boxer by The Ring magazine. Mares (25-0-1, 13 KOs) of Montebello, Calif. is rated the number two contender by the same publication at 122 pounds, while Cuban defector Rigondeaux (11-0, 8 KOs) of Santiago de Cuba is the division's number one contender.
Rigondeaux, 32, is widely regarded as one of the greatest amateur boxers in history, claiming gold medals at the 2000 and 2004 Olympics. Mares, 27, represented his native Mexico at the 2004 Olympics.
Donaire's trainer Robert Garcia, whose unbeaten younger brother Mikey will face Orlando Salido this Saturday for the WBO featherweight title, says that while Mares would be one of the highest profile fights that could be made in boxing, a bout with Rigondeaux would be tougher.
"I think Rigondeaux is harder," Garcia said. "Talking to Nonito, he says right away, 'I'll knock him out' and I agree with him. If he catches 'Rigo,' Rigo won't be able to take his punch. I think he knocks him out, but he's a very talented, skillful kid, so you gotta be very careful.
"I think Mares' style is perfect for Nonito to shine, just as Salido with Mikey. Mikey's fight is going to be a little bit harder than it would be Nonito against Mares. But maybe it's going to be a dream fight, because it might not happen."
Garcia's skepticism is echoed by Donaire's manager Cameron Dunkin, who was also on hand as Mikey Garcia's manager. Dunkin says the fact that they are with rival promoters and televised by rival networks (Donaire with HBO, Mares with Showtime) makes for a near-insurmountable task in negotiations.
"I don't think the fight's going to happen, there are just too many things to overcome," said Dunkin. "You've got networks involved, promoters involved and there are just too many things that could go wrong. I don't see that happening. I think right now we have to deal with other people and get Nonito back in the ring. Nonito wants to fight."
Dunkin says that Rigondeaux would be the easiest fight to make, but that former Donaire knockout victim Vic Darchinyan has been eager to stage a rematch of their 2007 bout. The 37-year-old Darchinyan (38-5-1, 27 KOs) was knocked out in five rounds by Donaire in what was called The Ring magazine's Upset and Knockout of the Year. Darchinyan has won world titles at flyweight and super flyweight, but has lost two of his last three.
Dunkin also revealed that long-time WBA featherweight champion Chris John (48-0-2, 22 KOs) has expressed interest in facing Donaire.
"I want to talk to [Donaire] about all three," said Dunkin. "I'm going to talk to HBO with Top Rank today or tomorrow to see what we can do."
[Related: Donaire, wife expecting their first child]
The 30-year-old Donaire recently made headlines by announcing that his wife Rachel is three months pregnant.
- AMD, GMA News
Ryan Songalia is a member of the Boxing Writers Association of America (BWAA) and contributes to GMA News. He is also a member of The Ring ratings panel and can be reached at ryan@ryansongalia.com. An archive of his work can be found

here. Follow him

on Twitter

too.