PHL seeks end to Chinese occupation of 8 reefs and shoal in UN complaint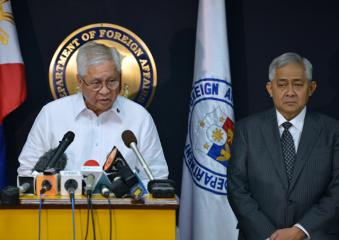 PHL asks UN's help over PHL-China territorial row. Foreign Affairs Sec. Albert del Rosario (left) reads a statement during a press conference in Manila on Tuesday, as Solicitor General Francis Jardeleza listens. The Philippines has gone to a UN tribunal to challenge China's claims over most of the West Philippine Sea including PHL territory. AFP/Ted Aljibe
The Philippine complaint against China before a United Nations arbitration body is a comprehensive collection of Manila's protests against Chinese expansionist moves in the West Philippine Sea in the last 17 years.
These include a demand for Beijing to end occupation and activities on eight reefs and shoal like Mischief Reef, which was seized in 1995.
Foreign Secretary Albert del Rosario announced Tuesday that the Department of Foreign Affairs summoned Chinese Ambassador Ma Keqing to hand a note informing the Chinese government that the Philippines is taking their long unresolved territorial disputes before a UN arbitration body.
It was the strongest step taken by the Aquino administration against perceived Chinese aggression in the West Philippine Sea, a step that fueled fears of a backlash from China, an Asian economic giant and a major global power.
The Philippine government said it hoped the legal action "will have no adverse effects on our trade with China."
Sovereign rights
In the diplomatic note handed by Foreign Affairs Assistant Secretary Teresa Lazaro to Ma at the DFA Tuesday, the Philippine government, through Solicitor General Francis Jardeleza, sought an end to Chinese occupation and activities at Mischief reef, McKennan Reef, Gaven Reef, Subi Reef, Scarborough Shoal, Johnson Reef, Cuarteron Reef and Fiery Reef Cross Reef.
"China's occupation of and construction activities on them violate the sovereign rights of the Philippines," the note said.
These features, the DFA said, are either part of the country's continental shelf or exclusive economic zone (EEZ) as mandated by the UN Convention on the Law of Sea, of which China, the Philippines and 162 other nations are signatories.
UNCLOS gives maritime nations the right to manage, explore and exploit features in areas within a 200-nautical mile limit from its coast.
DFA: Pinoys should stand united
With its occupation of the said areas, Manila also accused Beijing of "unlawfully" interfering with the exercise by the Philippines of its rights to navigation under the UNCLOS.
China virtually claims the South China Sea nearly in its entirety even as it overlaps with territories of other Asian nations like the Philippines.
The potentially resource-rich waters, part of which is known in the Philippines as West Philippine Sea, are also claimed in part or in whole by Vietnam, Malaysia, Brunei and Taiwan.
"If someone forces himself into your house and tries to unlawfully take away what belongs to you, should you not take action against the intruder? Our action is in defense of our national territory and maritime domain," a DFA statement said as it called on the Filipino people to demonstrate patriotism.
"All Filipinos should stand behind the President to defend what is ours. We should all stand united as one before the whole world to manifest the President's global leadership on this issue," the DFA said.
— KBK, GMA News