PHL Coast Guard: No oil spill from USS Guardian so far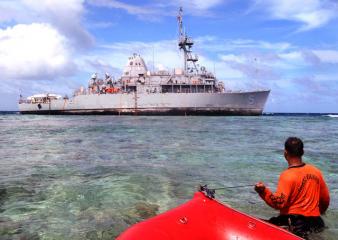 US Navy, PCG still unable to extricate USS Guardian. A Coast Guard personnel wades through the crystal-clear waters of Tubbataha Reef on Tuesday as the USS Guardian remains stranded on the south atoll of the protected marine sanctuary. During an initial assessment of the area, the Coast Guard said the size of the damage caused by the ship's grounding on the coral reef could fit 80 cars. GMA News/PCG
The fuel tanks of the USS Guardian "appear to be intact" and no oil spill has emanated from the US Navyship while it remains stranded on the Tubbataha Reef, the Philippine Coast Guard (PCG) said in a report to Transportation and Communications Secretary Joseph Emilio Abaya on Thursday.
PCG commandant Rear Admiral Rodolfo Isorena informed Abaya that although the USS Guardian's wooden hull and propeller sustained damage, there is no oil leaking or spilling from the warship's fuel tanks.
The report to Abaya said the US Navy is checking for hazardous materials on board the stranded ship to make sure no further damage happens to the Tubbataha Reef corals.
PCG and US Navy personnel have kept the USS Guardian under close watch. The PCG report said the sea waves in the area have been rough to very rough in the afternoon because of the northeasterly winds.
Expected to arrived Friday at the reef is the USS Salvor, which will be involved in the ongoing salvage operations.
The PCG report said the US Navy is evaluating the damage the USS Guardian sustained when it ran aground on the reef. A hydrographic survey is also underway.
DOTC undersecretary Eduardo Oban Jr. said Admiral Thomas Carney of the US Navy confirmed to him that the Salvor will be deployed.
Also to be deployed to the area by January 31 is a high capacity crane that could lift the USS Guardian so it will not drag all over the corals and cause more damage to the reef.
An inspection team deployed to the stranding site said about 1,000 square meters of corals were damaged in the stranding of the USS Guardian. — ELR, GMA News