"Wagas: Mga totoong kuwento ng pag-ibig" launches Feb. 9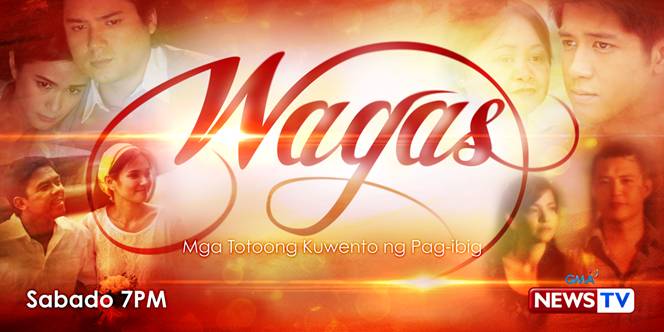 Believe in the power of true love all over again this February as GMA News TV launches
WAGAS: MGA TOTOONG KWENTO NG PAG-IBIG.
Known for its documentaries, GMA News TV takes a breather from its usual stories uncovering social ills. This time around the focus is on real extraordinary love stories sure to inspire even those who have become skeptic to love. WAGAS: MGA TOTOONG KWENTO NG PAG-IBIG will air Saturdays at 7pm starting February 9, five days before Valentine's Day.
WAGAS: MGA TOTOONG KWENTO NG PAG-IBIG features visual narration by some of the country's emerging movie directors and will have in its cast some of the brightest actors of today. For its first four episodes, watch out for these moving love stories:
The love story of Senator Miriam Defensor and Narciso "Jun" SantiagoCast: Heart Evangelista and Geoff EigenmannDirected by: Rember GeleraWritten by: Danzen Santos
Highly intellectual, strong-willed and possessing an acerbic tongue, Senator Miriam Defensor-Santiago has always been perceived as fearless and void of emotions. Very few may realize that the controversial lawmaker is also a devoted wife to Atty. Narciso Jun Santiago for more than forty years. Their unusual love journey that spans decades began in the hallways of the University of the Philippines where the senator, while serving as the first female editor in chief of the Philippine Collegian caught the eye of the rich, campus heartthrob.
From being a new lawyer to being a wife and mother to becoming a political icon, Senator Miriam Defensor-Santiago has always had her husband Jun steadily by her side.
The Love story of Emmy Gaite a.k.a. "Nicole Hyala" and Renly TinanaCast: Alessandra De Rossi and Mark Anthony FernandezWritten by: Danzen SantosDirected by: Lem Lorca
He was a fan. She was a radio star. It took a while before Nicole and Renly's paths crossed. But when it did, it led to forever.
Renly left his girlfriend after he finds out that he was being cheated on. He then turns his affections to the popular disc jockey by anonymously sending coffee to her radio station every morning.
Intrigued by her secret admirer, Nicole one day waits in the reception so she could receive the coffee herself. Will it be love at first sight for the two?
The love story of Chef Boy Logro and Ermilinda LogroCast: Mike "Pekto" Nacua, Isabel Oli, Buboy VillarWritten and Directed by: Paul Sta Ana
The first woman in Chef Boy Logro's life would also be his last, for he married his first love.
As a child, the famous chef was so traumatized by his father's womanizing. He then vowed to himself that he would remain faithful once he meets the woman of his dreams.
That woman was Mely whom he meets when he moved to Manila in search of a job.
Despite having to work abroad in search of greener pastures, Chef Boy remained true to his vow. Even with his newfound fame and fortune, Chef Boy continues to be a loving partner to Mely and parent to their four children.
The love story of a charcoal maker and a midget (Edwin and Jenny Botis)Cast: Aljur Abrenica, Marilyn Apolinar, Mara LopezWritten by: Paul Sta AnaDirected by: Adolfo Alix, Jr.
Their love story began with a twenty peso bill. Noel wrote his phone number on a twenty peso bill, hoping it would lead him to the girl of his dreams. As fate would have it, the twenty-peso bill falls into the hands of two female best friends. One of the girls – Jenny – sends Noel a text message. Soon, they become text mates. What Noel doesn't know is that Jenny is a midget. She would describe her best friend instead of herself every time Noel asked. After deciding to reveal the truth, Jenny agrees to meet Noel. Against the odds, they fall in love, get married, and are still together to this day.
Watch out for these inspiring stories of true love. WAGAS: MGA TOTOONG KUWENTO NG PAG-IBIG airs on GMA News TV Saturdays at 7 PM starting February 9, 2013.