PBA-DL
:

Cagayan Valley hope to keep rising versus Cebuana Lhuillier
The third-seeded Cagayan Valley Rising Suns look to keep shining in the PBA Developmental League, while the Cebuana Lhuillier Gems will try to stretch their win streak to three straight victories, when these two teams clash in the quarterfinals of the 2012-13 Aspirants Cup.
The third-seeded Rising Suns have the twice-to-beat advantage over their foes, who seek a return to the Finals after getting there back in the league's maiden conference.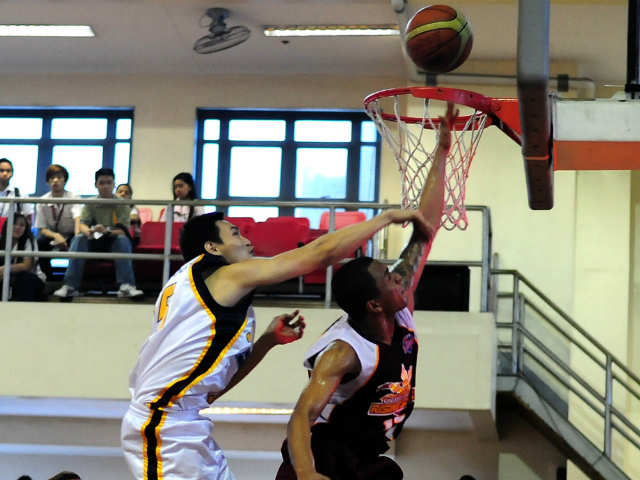 Chris Exciminiano (R) is expected to lead the Cagayan Valley attack.
KC Cruz
Who are the Rising Suns?
Projected starting-five:
PG: Eliud Poligrates - 12.3 points, 3.5 rebounds, 2.2 assists, 2.0 steals
SG: Ping Exciminiano - 16.0 points (3rd in the PBA-DL), 4.3 rebounds, 2.7 assists, 2.3 steals (1st in the PBA-DL)
SF: James Forrester - 9.4 points, 4.8 rebounds, 2.4 assists
PF: Mark Bringas - 8.7 points, 8.5 rebounds, 2.2 assists
C: Raymund Alamazan - 7.9 points, 10.7 rebounds (2nd in the PBA-DL), 2.3 blocks (2nd in the PBA-DL)
Key reserves:
Adrian Celada, Edrian Lao, Mark Cruz, Joshua Webb
A conference ago, the then-debuting Cagayan Valley Rising Suns went winless in nine outings. Now, they're a win away from a semifinals berth.
The Rising Suns possess the best offense in the PBA-DL, norming 85.50 points per game. They put up such gaudy numbers due to the fact that they're also the league-leaders in fast break points (18.10) and second-chance points (14.40).
They're not slouches on the defensive end either, hauling in 51.40 rebounds an outing, while defending the rim to the tune of 5.9 blocks a game.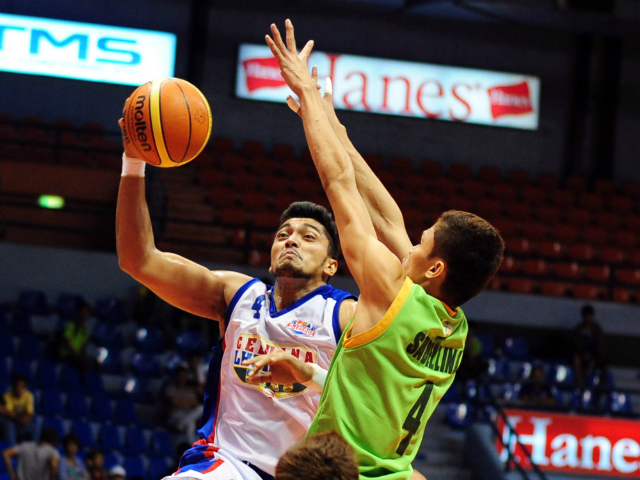 June Dizon (L) will have a difficult time down low with Raymund Almazan guarding the paint.
KC Cruz
Who are the Gems?
Projected starting-five:
PG: JR Buensuceso - 6.2 points on 50.0 3P%, 2.4 rebounds, 4.2 assists (3rd in the PBA-DL), 1.3 steals
SG: Paul Zamar - 11.4 points, 3.1 rebounds, 1.6 assists
SF: James Mangahas - 5.0 points, 3.6 rebounds, 1.0 assists
PF: June Dizon - 12.4 points on 52.27 FG%, 6.2 rebounds,
C: Raymond Aguilar - 10.0 points, 4.6 rebounds, 1.5 assists
Key reserves:
Jopher Custodio (2nd in three-pointers made), Gab Banal, Paul Sanga, James Martinez
The Cebuana Lhuillier Gems were the second-best PBA-DL team back in the league's inaugural Foundation Cup, but they fell in a sweep to league powerhouse NLEX. Since then, they've been trying to make it back to the Finals, but with no luck.
In the past, the team looked just as decorated as the aforementioned Road Warriors, boasting of a who's who of semi-pro talent. This season though has been different; the names are less gaudy, but the results still have them in the post-season. With that said, the team did make some in-season adjustments, bringing in former Powerade Tiger James Martinez for the final three elimination round games.
Previous encounter
These two teams clashed back on November 27, 2012, in a high-scoring game that saw Cagayan squeak by with an 86-82 victory.
[Related: Cagayan dumps Cebuana Lhuillier]
Cebuana Lhuillier were actually ahead by the end of the third quarter, 63-60, but Cagayan dished out 26 big fourth quarter points to pick up the victory.
The Rising Suns were a blur on the floor, racking up 27 fast break points and 20 turnover points, but the Gems stayed in-step on the strength of 47 trips to the foul line, which they converted into 32 points. By contrast, Cagayan went a mere 18-of-30 from the stripe.
Ping Exciminiano of Cagayan Valley showed off his versatility with 24 points, seven rebounds, five assists, and three steals versus no turnovers. On the other end of the floor, it was Raymond Aguilar down low for Cebuana Lhuillier, posting 20 markers and eight boards.
How do these two teams match-up?
The Gems are in for an up-hill climb in this one. Cebuana Lhuillier already gives up league-worst figures in fast break points (15.9) and turnover points (17.4), which plays into Cagayan Valley's strengths. Also making matters more difficult for the lower-seeded squad is the fact that their big men, Dizon and Aguilar, can be guarded one-on-one by their counterparts on the Rising Suns, Bringas and Almazan. That makes it unlikely that Cagayan will need to send double-teams, taking away open looks from Cebuana's shooters.
That said, it might be the perimeter players who will carry things for the Gems, if they're going to at least force Cagayan Valley to burn their twice-to-beat advantage. The Gems take the most three-pointers of all the teams, and a hot outing from the likes of Martinez, Custodio, and Sanga could even things out between the two squads.
GMA News