PBA
:

Abueva's block, Baguio's lay-up, lifts Alaska over Rain or Shine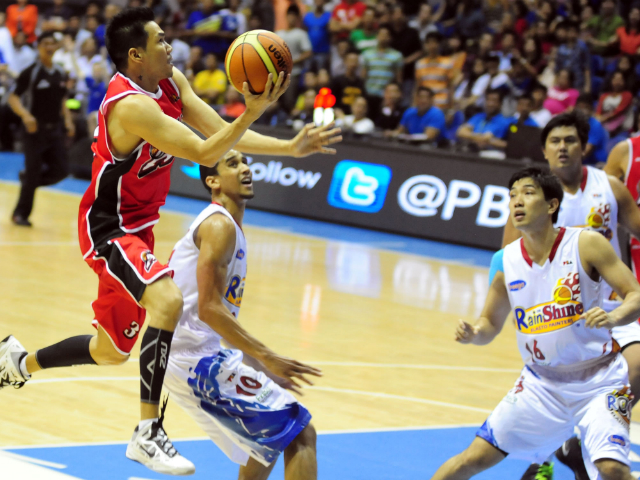 Cyrus Baguio (L) takes to the sky to hit the game-winning lay-up against the Rain or Shine Elasto Painters.
KC Cruz
Calvin Abueva tied the game with a three with 10 seconds remaining, before blocking Rain or Shine's 7-3 import to give Cyrus Baguio a chance to nail the game-winning layup, as the Alaska Aces trounced the Rain or Shine Elasto Painters, 83-81, in their first match-up of the 2013 PBA Commissioner's Cup, Saturday, at the Smart Araneta Coliseum.
Coming into the fourth quarter tied at 66-apiece, Alaska began finding shot opportunities in the paint with regularity as import Robert Dozier and Sonny Thoss scored their first eight.

However, Rain or Shine matched them to the bucket, and a Ronnie Matias triple made the difference for the Elasto Painters as they inched ahead, 75-74.
With five minutes to play, Gabe Norwood and import Bruno Sundov overpowered the defense for consecutive makes down low, while the Aces struggled to score over the 7'3" Croatian.
Thoss gave Alaska a break when he was fouled with under two minutes to play and split from the line after what was nearly a five-minute dry spell. Then on the next play, Jvee Casio found Dozier in transition for an and-one. However, Sundov, ever the steadying presence, made two from the line to keep Alaska at bay, 81-78.
Dozier was fouled on a second-chance drive with 45.5 seconds to play but couldn't capitalize and missed both from the line. After securing a stop, the Aces called timeout with 24 seconds left in the game.
Norwood played tight defense on Casio and nearly forced a turnover, but the point guard dished the ball to Calvin Abueva, who tied the game with a Hail Mary triple, leaving 10.3 ticks to play.
Rain or Shine went to Sundov, but he was stuffed by Abueva from behind. Cyrus Baguio raced down the floor and flicked in a fall-away lay-up to stun the Elasto Painters.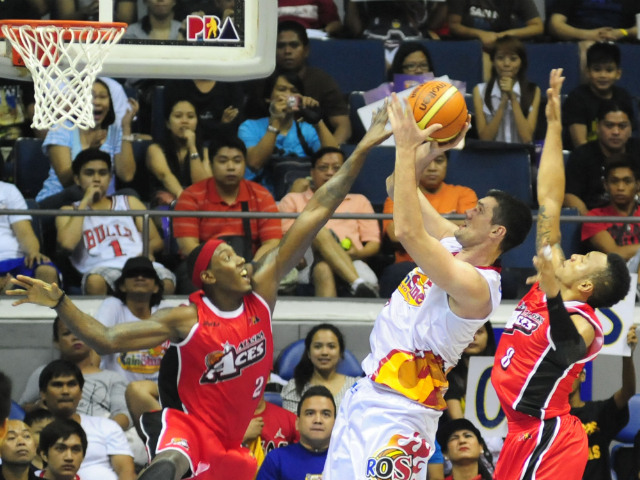 Robert Dozier (L) and Calvin Abueva (R) had a block party on Bruno Sundov.
KC Cruz
Calvin Abueva was named the best player of the game with eight points and 14 rebounds. Dozier top-scored for Alaska with 21 points, including 16 in the second half, to go with 16 rebounds and three blocks. Casio added 11 points and five dimes, while Baguio tallied nine markers.
"We scratched and clawed our way for that win," said Alaska head coach Luigi Trillo. "It was a tough win against Rain or Shine, who's been playing the best basketball in maybe the last two conferences. We haven't beat them in quite a while, and I admire Coach Yeng [Guiao] for the way he motivates his players."
Trillo also said he aims to improve his team's rebounding this conference after placing last in the Philippine Cup. "We realize our import isn't the biggest or the most imposing, so we all need to box out a bit more."

In this game, Alaska was in fact the better team on the boards, racking up a 52-44 margin, including 19-11 on the offensive glass.
In the first quarter, Rain or Shine struggled to connect from the field. Bruno Sundov, their 7'3" Croatian import, kept them in the game though with two drives over smaller defenders. Meanwhile, the Aces patiently ran their halfcourt sets and found the open man, resulting in easy jumpers for their players. A triple by Casio highlighted an 11-7 lead for Alaska halfway through the period.
JR Quiñahan nailed a jumper from the low block with five minutes to play, the first Filipino Elasto Painter to score from the field. Casio was fouled shortly and replied with three straight free throws, including one more charity off a technical foul on RoS mentor Yeng Guiao.
However Rain or Shine would not be deterred; Ryan Arana and Jeff Chan connected on back-to-back triples, and Arana drew an and-one off a steal to cap an 11-4 counter-surge that gave them the lead, 18-15.
The pace slowed in the final three minutes, as teams were intent on getting to the line to shoot charities, but a triple by Aldrech Ramos was the difference for the Aces, who took a slim 24-23 lead after one.
In the second quarter, Gabby Espinas, Ramos and Thoss outplayed their counterparts to keep a 30-28 lead after a Paul Lee triple almost four minutes gone into the quarter, but Sundov checked back in and soon scored on back-to-back trips for Rain or Shine.
Sundov's defensive presence nullified Alaska's previous incursions into the lane. Meanwhile, Lee and TY Tang dropped seven unanswered points, completing an 11-2 run for Rain or Shine, 39-32, with under three minutes remaining.
A drive by Cyrus Baguio ended a four-minute drought for the Aces, as they aimed to close the half on a high note. Baguio and import Robert Dozier went on an 8-5 swing, but Beau Belga drilled a last-second trey to extinguish their momentum at halftime, 47-40.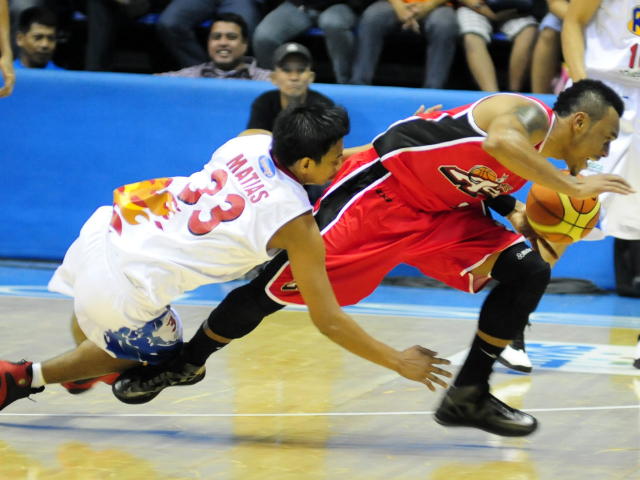 Ronnie Matias (L) tries to keep up with "The Beast' Calvin Abueva.
KC Cruz
Dozier's aggressive play anchored Alaska when play resumed, as the import scored nine of their next 15 points. The Elasto Painters, when they didn't rush shots in transition, were unstoppable as Sundov continued to shoulder their offensive load, but the Aces had trimmed the deficit to two halfway through the period, 57-55.
Alaska held the fort on defense while attacking the basket on the other end. Charities by Calvin Abueva, Gabby Espinas and Casio allowed a 5-2 swing that tied the game at 60 apiece with three minutes to play.
Dondon Hontiveros hit his first field goal of the game to regain the lead for the Aces with two minutes remaining, but the Elasto Painters traded shots until the buzzer, as a Hontiveros miss from deep before time ran out kept the score at 66-66 heading into the payoff period.
The Elasto Painters shot 28-of-28 from the floor (41.2 percent) against Alaska's 26-of-75 (34.7 percent). The Aces made up for it with a 27-of-35 outing from the free throw line (77.1 percent) versus Rain or Shine's 18-of-28 mark (64.3 percent).
Led by three from Dozier, six different Aces contributed to the team's 10 blocks. Surprisingly, Rain or Shine didn't register a single blocked shot despite having a 7'3" import on their team.
Despite that, Bruno Sundov had an impressive debut with 30 points and 15 rebounds on 11-of-17 shooting. Paul Lee, Gabe Norwood and Jeff Chan notched eight points apiece and totaled 10 boards and seven dimes for the Elasto Painters.
Trillo had high praises for Sundov's performance in the game, calling him "the barometer for imports in this conference." — RAF, GMA News
The scores:
Alaska 83 – Dozier 21, Thoss 17, Casio 11, Baguio 9, Abueva 8, Espinas 6, Ramos 5, Jazul 4, Hontiveros 2, Reyes 0, Dela Cruz 0, Belasco 0.
Rain or Shine 81 – Sundov 30, Lee 8, Norwood 8, Chan 8, Tang 6, Arana 6, Matias 5, Belga 5, Cruz 2, Quinahan 2, Tiu 1, Rodriguez 0.
Quarters: 24-23; 40-47; 66-66; 83-81