Sailormoon gets a hotter, updated look in Guild Wars 2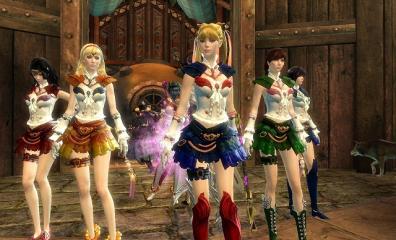 Sailormoon comes to Guild Wars 2. Fans of the magical-girl series have put up a guild of their own, complete with these customized versions of the show's characters, which many feel are a fittingly amped-up homage to the original. Fighting Crime With Sailor Moon [Moon] via Faceboo
Fans of the magical-girl franchise "Sailor Moon" have invaded the online fantasy gaming world of Guild Wars 2 (GW2) —with a team of customized unofficial characters.
"We're Fighting Crime With Sailor Moon [Moon]... a group of friends playing Guild Wars 2. Join us as we triumph over evil!" said the fans in
their Facebook page
.
The characters were created using GW2's
Dye System
, which allows you to color, mix, and match individual armor pieces to achieve a custom look.
"We spent a little while mixing and matching armors until we came up with what we thought was the best possible combination for a sailor uniform. Thankfully, the dyable area's were accommodating to our needs!," the moderators said in a comment thread.
"We plan to make the outer scouts... eventually. Unfortunately, they don't have seafoam green hair dye yet! Hopefully soon!" they added.
This early, they are already getting praise for their art work and attention to detail.
The group's Saint Mendrheal and Gardenia The White, who founded "Fighting Crime With Sailor [Moon]," admitted to being fans of the show.
Presently, they said they are recruiting all professions and still building up ranks.
"In fact, we created Guild Wars characters for all 14 of the main Sailor Scouts featured in the show. No, we did not buy all 14 accounts... in fact, many of them belong to some of our friends who used to play, but are currently inactive. We used a slot on each of their accounts for each character,"
they said
.
The group has been mentioned and re-blogged numerous times, most notably
on the official Guild Wars 2 Facebook page itself
.
— TJD, GMA News