Get to know the senatoriables and their platforms on 'Pagsubok ng mga Kandidato: The GMA News TV Senatorial Forum'
PAGSUBOK NG MGA KANDIDATOThe GMA News TV Senatorial Forum
Airing Dates: February 16 and 23, 2013
Saturday, 9:45 - 11:00 PM
GMA News TV presents Pagsubok ng mga Kandidato this Saturday night, a compelling program format that will introduce the 2013 Senatorial Candidates to the Filipino audience. Pagsubok ng mga Kandidato involves problem solving: each candidate will be presented with a tough leadership scenario and asked to clearly identify a solution.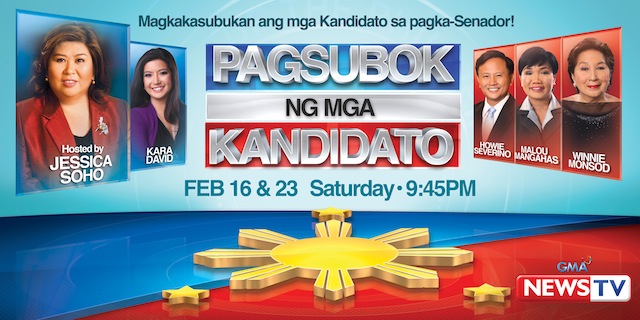 The forum will provide viewers with insight into how the candidates think and more importantly, how
well
they think.
Upon presenting their solutions to the scenario, the 33 senatorial candidates will also be put through a round of questioning about their track records.
The country's most awarded broadcast journalist, Jessica Soho, will be hosting the forum. Soho will be joined by other GMA News and Public Affairs anchors and hosts including Howie Severino, Kara David, Malou Mangahas and Professor Winnie Monsod in questioning the candidates about their past performance. Their pointed questions - and the unexpected answers of some candidates - are the highlight of the program.
'Pagsubok ng mga Kandidato' will air as a two-part primetime special on February 16 and February 23, 2013, from 9:45-11 PM on GMA News TV Channel 11, the country's number one news channel.