Music review: Jessica Sanchez' Valentine concert: 'Bitin' but heartwarming
The show apparently was starting late. After fellow "American Idol" finalist Colton Dixon's front act performance, the Valentine's Day crowd was seemingly tapping the same foot, calling out Jessica Sanchez's name out of anticipation, excitement, and understandable impatience.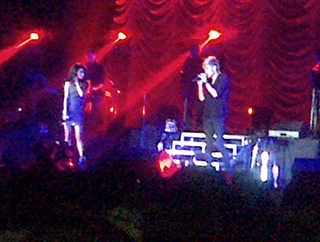 Jessica Sanchez and Colton Dixon. Jamie Ortega
So finally, when the music started to play and this pint-sized girl in a shiny, glittery dress with matching four-inch heels finally stepped out, the crowd at the Smart-Araneta Coliseum was in a daze.
For it took a moment to absorb that the teen singing sensation who you've rooted for day in and day out in the popular reality show, who brought tears to your eyes even after the fifth time of replaying "And I Am Telling You" on YouTube, whom you saw as your little sister from several nautical miles away, and the cause of your country's pride, was actually right in front of you—in flesh and blood.
And wow, has she grown up in a span of a year!
There was no trace of the shy, soft-spoken girl in the on-cam "American Idol" interviews. Here was a sophisticated, confident girl who knows what she wants and is well on her way to the top.
Never mind that the first song, Lauryn Hill's "Can't Take my Eyes Off Of You" was bordering on boring. A lousy choice to set the tone of the concert, I must say. But it seemed the 17-year-old powerhouse singer was just warming up.
This was followed by a tender and soulful rendition of Michael Jackson's "Human Nature," then Beyonce's "Love on Top," which was a crowd favorite, judging from the number of people who stood up and danced to the song.
And just when we were being led to an upbeat path, Sanchez mellowed things down with a love song.
"Prior to my 'Idol' journey, I uploaded a lot of YouTube videos. And this next song is actually a cover I did on YouTube. And it was one of the most viewed videos. I dedicate this song to the couples out there tonight," Sanchez said to introduce Adele's "Someone Like You."
It must be one of the saddest, most bitter songs written in the face of the earth that might be more appropriate for the heartbroken, but fans couldn't help but sigh and clutch their chests with every word and note that the Filipino-Mexican belted out.
Standing ovation
After a duet with Dixon for the song "I Love the Way You Lie," Sanchez delivered the unexpected.
Now clad in a white (and again, glittery!) halter dress, the singer surprised fans with "Ikaw," a Sharon Cuneta original with music by Louie Ocampo and lyrics by the late George Canseco.
It was a mesmerizing scene: a single spotlight was on Sanchez, her body almost unmoving, her usually powerful voice now brought down to a sweet and restrained musicality. So when the song flourished to its big finish, tears started pouring out from my eyes (and some of the fans beside her, as she was likely to believe). The crowd roared and gave Sanchez a standing ovation.
With only 14 songs lined up in her concert list, Sanchez churned out "American Idol" favorites in the latter part of the show, with the likes of "I Will Always Love You," "Dance with My Father," "Steal Away," and "And I Am Telling You."
These were the songs that secured her spot in the reality show and gave her a big push toward the finals.
But her last song "Fairytale" might be a prelude to brighter things to come. An upbeat and very danceable song, "Fairytale" will be a part of Sanchez's debut album set to be released this year.
And since we've mostly heard Sanchez doing covers, the fans were left guessing as to what kind of artist she will evolve into, what kind of album will she and her producers put out?
Which is probably well and good. We might have felt "bitin," but at least we know for sure Jessica Sanchez will be back, with original songs to boot. —KG, GMA News