Davao City cancels preschool classes on Tuesday due to Crising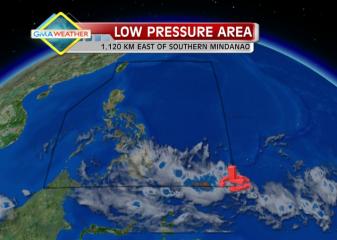 Satellite image at 8 a.m., 18 Feb 2013. Satellite image at 8 a.m., 18 Feb 2013 Weather Central
Davao City on Monday night announced the cancellation of classes at the preschool level on Tuesday due to Tropical Depression Crising.
In a post on its Twitter account
, the Davao City government cited PAGASA's declaration of public Storm Signal No. 1. over parts of the Davao area.
"All PRE-SCHOOL level classes are SUSPENDED tomorrow, Feb. 19, Tuesday, due to PAGASA public storm signal number 1," it said.
It also cited
Executive Order 66
which President Benigno Aquino III signed in 2012.
Under the executive order,
automatic suspension of classes at the preschool level
takes effect when PAGASA raises Signal No. 1.
PAGASA earlier hoisted Signal No. 1 over Davao del Norte, Davao del Sur, Davao Oriental, and Compostela Valley.
— BM, GMA News