Cardinal Tagle looms large in global Catholic news site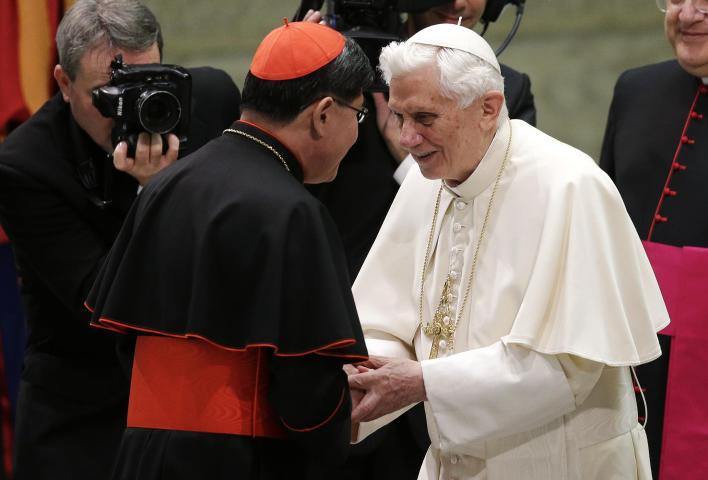 Manila Archbishop Luis Antonio Cardinal Tagle and Pope Benedict meet at the Vatican.
File photo by Reuters
Considered a darkhorse contender for Pope, Luis Cardinal Tagle has just received what virtually amounts to an endorsement by the world's leading Catholic news agency.
"He is one of the cardinals most frequently mentioned as a possible pope," declares the US-based Catholic News Service (CNS) in a
newly posted glowing profile of the Filipino cardinal.
"His youthful energy, his pastoral experience, his theological training and his communications skills impressed cardinals and bishops from around the world even before Pope Benedict XVI inducted him into the College of Cardinals last November."
The CNS's coverage of the Vatican is closely followed around the world. Its articles about religion are widely published by Catholic publications and presumably read by the cardinals who will be selecting the next Pope.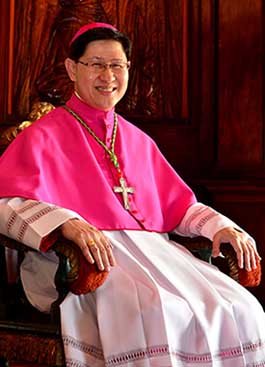 Photo from the Archdiocese of Manila
While possessing qualities that analysts have said would make him suitable to be Pope, Tagle has been given little chance because he is still a relative unknown in the exclusive club of cardinals. The CNS profile should help bridge that knowledge gap in a significant way.
In the profile by CNS reporter Cindy Wooden, Tagle is seen as a bright reformist cleric who has spoken candidly on the church's sexual abuse crisis at international conferences. At a large Vatican-sponsored meeting last year, Tagle is quoted as urging church officials to institute changes to prevent further abuses, especially in Asian countries where the church is relatively untouched by the crisis.
"We do not need to wait for a bomb to explode. Preventing it from exploding is the best response," he was reported to have said.
Tagle reportedly "led discussions about how Asian bishops should prepare their child protection policies, particularly given cultural customs and behaviors that could make it difficult to define inappropriate touching and that work to keep abuse secret," according to the article.
The profile highlights Tagle's recurring theme in his homilies and writings of how humility must mark the church's interaction with the flock.
The theme resonates even in his native Philippines where Tagle's fellow church officials have been criticized for
"theological bullying"
and a lack of humility in pushing its agenda.
Tagle has encouraged his colleagues from around the globe to acknowledge that the church does not have all the answers and need not weigh in on all matters. "A church at home with silence will make the voiceless believe they are not alone," Tagle said in a speech at the World Synod of Bishops on in October 2012, when he was still Archbishop.
At 55, Tagle is the second youngest cardinal. His relative youth is generally considered a drawback, but can also be viewed as an advantage by cardinal-electors who believe a young Pope can help reach out to a young global population of Catholics who have been disillusioned by years of scandals and attempts by the church to cover them up.
– HS, GMA News