World's first smartphone-powered satellite blasts into space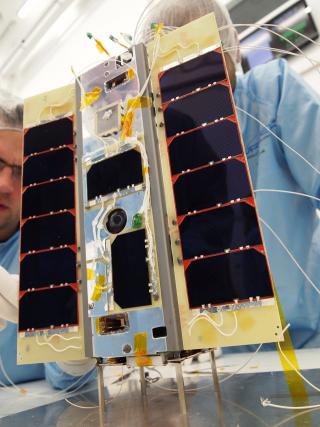 World's first smartphone-powered satellite. The STRaND-1 is powered by a Google Nexus One smartphone, seen here with its camera peeping out of a porthole in the satellite's main body. SSTL
The first smartphone-powered satellite has just blasted into space.
Dubbed STRaND-1, the nanosatellite will have an Android-powered Google Nexus One phone as its brain, and run four apps, according to
a report on Popular Science
.
STRaND-1 stands for "Surrey Training, Research, and Nanosatellite Demonstrator," and will use the phone's computing power to "collect scientific data, take pictures of Earth and perform some of its operations once it's in orbit."
"This is the first smartphone-powered satellite to go into space," PopSci.com said.
A separate report on Space.com
said the phone's four apps will "take photos from the satellite, test the Earth's magnetic field, monitor the health of the satellite, and allow people around the world to upload videos that will play in space on the phone."
PopSci.com said that while smartphones' GPS units stop working at around 60,000 feet, STRaND-1 uses a small GPS unit designed for space.
Also, the phone can upload apps while it is in space.
STRaND-1 was one of seven satellites and rockets brought into space by the Indian Polar Satellite Launch Vehicle rocket that was launched in India.
Other satellites and rockets launched along with the STRaND-1 included:
an ocean-monitoring satellite from the Indian Space Research Organisation and French Space Agency
the $25-million Near-Earth Object Surveillance Satellite (NEOSSat), a small spacecraft designed to seek out large asteroids in orbits that may stray near Earth
twin satellites composing the BRIght Target Explorer (BRITE) mission. The satellites are to study the brightest stars in the night sky by measuring how their brightest changes over time.
"NEOSSat will probably reduce the impact hazard from unknown large NEO's [near-Earth objects] by a few percent over its lifetime, but is not designed to discover small asteroids near the Earth that may be on collision courses," NEOSSat co-principal investigator Alan Hildebrand of the University of Calgary was quoted by Space.com as saying. — TJD, GMA News