More than half million Pinoy kids suffer from severe malnutrition
CALUYA ISLAND, Antique – The drizzle halted, and the sun finally took over. As it shone higher and brighter, it made the sea even more inviting. Its clear waters glittered like fine diamonds and its white sands offered an immaculate, spectacular landscape equivalent to what people call paradise.
Undeniably, it's a good morning to dip. And brothers Adrian and Arvin Malano rushed to the sea as soon the school bell rang to signal the start of lunch break.
They went farther and farther from the coastline, lingering at the part where the water was deep enough for them to swim, gyrate and even whirl underneath.
At first glance, the brothers aged 12 and 7 seemed to be simply enjoying the moment, frolicking underwater. But playing and having fun is not exactly the reason why they were there in the sea at a time when they should be eating lunch and resting before going back to school for the afternoon sessions.
Each time they rose up fast from the seabed, their hands were full with long lines of green seaweed. Some tattered shanks of styrofoam were afloat, waiting for the fill of their harvest.
This is a usual day for the young brothers. A kilogram of seaweed will sell eight pesos. For a 30-minute harvest, they both would usually gather up to three kilograms, which will earn them about P24 or a little over half a US dollar. There are bad days, though, when they get no harvest.
"We want to help our parents. It's for our food," said 12-year-old Arvin.
At home, the Malano brothers joined their parents and three other siblings for lunch, their first meal for that day. The entire family only had five small pieces of dried fish and rice to share.
Their parents would rather have the five kids take the fish. They would have to satisfy themselves with sprinkling their rice with salt to give it flavor.
Rovelyn and her husband earn a living also by harvesting and selling seaweed. They said they would not want their children to work, but they claimed that they are left with no better options. The choices to make have always just been either hunger or extreme hunger, they said.
"Hunger has always been with us since I was a kid. And now that I am a mother, I still experience it. My kids are still experiencing it, and it's even worse," a tearful Rovelyn said as she looked at her children eating.
"There are nights when they would just go to sleep with empty stomachs. Sometimes, they wake up in the middle of the night with their stomachs aching," she added.
It may be weird, but she couldn't help but feel relieved whenever she would think of one of her children who died and another one whom she gave up for a childless couple to adopt.
"At least, they do not suffer the same hard fate we are having," Rovelyn sighed.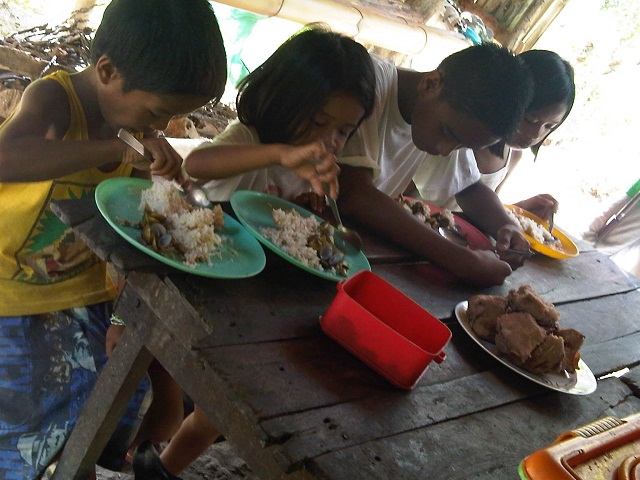 Eating three meals a day is a luxury for many impoverished kids.
Half a million kids
The skinny and small Malano brothers have been identified in school as belonging to the category of malnourished children.
They are only two of over half a million school-aged children nationwide who have been suffering from severe malnutrition.
This malnutrition makes Filipino children the third poorest and most disadvantaged sector in the Philippines, next to fishermen and farmers.
The Department of Education (DepEd) revealed that 562,262 pupils in kindergarten and elementary levels currently enrolled in public schools are considered "severely wasted."
Antique, where the Malano brothers live, tops the list of provinces with the highest number of undernourished kids aged five to ten. The provinces of Sarangani, Sulu, Capiz and Northern Samar come after Antique in the Top 5 list.
Based on the data from Food and Nutrition Research Insitute (FNRI), two in every five kids in Antique are underweight based on their age and their height, and almost two in every ten are stunted.
"We are alarmed with the results," said Zenaida Marfil, nutrition coordinator of DepEd-Antique. "And we are trying to do what we can to reverse the situation."
In the same data from FNRI, seven of ten families in Antique are "food insecure," or do not have enough food on the table.
The government points to poverty as the main driver of such an unkind scenario.
According to the National Statistical Coordinating Board, three of ten families in Antique province are poor.
It is the same poverty that prompts little children to work for a living, and often in conditions that are unsympathetic to their frail physique and indifferent to their rights as children.
Data from the National Statistics Office revealed that there are 5.5 million Filipino children in the labor force.
Education suffers
When kids are hungry, it is not only their parents who worry but their teachers as well for they are not only pushed to do hard labor for food, their chances of getting education are also pushed to the sides.
"When the children come to school hungry, they cannot focus on the lessons. The difficulty to learn makes them uninterested to continue going to school," said Lucena Concepcion, principal of Imba Elementary School in Caluya Island.
This is especially true for Jobert Juanites, who lives in nearby town Barbaza. He had to stop going to school at least twice; at nine years old, he is still in grade 2, two levels delayed for his age.
"I get dizzy sometimes because of hunger, so I don't go to school," said Jobert.
To fill his stomach, he is also forced to work. Instead of attending school, he would sometimes join his father to work in a sugarcane plantation in another province.
"But I want to finish my education so I can help my family," said Jobert, who at the time of the interview was sitting beside his father, a poor farmer who can't read and write as poverty also forced him as a kid to stop school at grade 1.
Race with time
The DepEd is racing with time to address the problem of malnutrition and its serious consequences. It is looking at a target of halving the number of undernourished children by year 2015 as part of the United Nations' Millennium Development Goals (MDG) the government committed to achieving.
A school-based feeding program has been set up to restore undernourished kids to health and to keep them in school. Vegetable gardens have also been established in schools as a source of healthy ingredients for the children's hot meals each morning.
But despite these efforts, DepEd, through its Health and Nutrition Center, admitted that due to lack of funding, it can only feed 42,372 school children, or 7.54 percent of the identified severely malnourished pupils, in 1,010 public elementary schools in 28 provinces.
For the feeding of more than half a million malnourished pupils, Education Secretary Armin Luistro said in a directive, "school officials and teachers have to collaborate with their respective local governments, nongovernment organizations, parent-teacher associations and other community volunteers for support."
Thus, the efforts of United Nations Children's Fund (UNICEF) to help DepEd come at no better time than this.
"The damage to health, physical growth and brain development of children affected by chronic undernutrition or stunting in the first two years is often irreversible, impairing them for life and leaving them with lower chances of finishing school and becoming highly-productive adults," UNICEF said in a statement.
Hence, according to Dr. Paul Zambrano, nutrition officer of UNICEF, the state of malnutrition among children in the Philippines is a very critical area of intervention. "And intervention should be done in a sustainable way."
UNICEF said that children are affected not only because of the lack of food. Poor feeding and care practices, poor health conditions of pregnant and breastfeeding women, lack of access to health services, and unsanitary conditions also placed children's lives at risk.
According to the 2011 National Nutrition Results, only 52 percent are breastfed within one hour of delivery, 47 percent of children zero to six months are exclusively breastfed, 45 percent of children six to 23 months are breastfed and timely provided or fed with adequate and safe nutritious complementary food.
"The window of opportunity for addressing undernutrition is from pregnancy to the first two years of a child's life or what we call 1,000-day window," said Dr. Zambrano.
UNICEF, in partnership with government agencies, primarily DepEd, Department of Social Welfare and Development, and the Department of Health, has actively undertaken action in four areas:
Infant and young child feeding (IYCF) – ensuring protection, promotion and support of exclusive breastfeeding for the first six months, timely introduction of complementary feeding (age-appropriate, adequate, safe and nutritious food) and continued breastfeeding for two years or beyond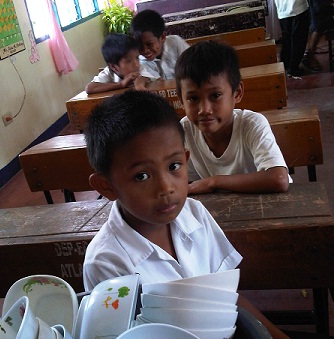 Children after a school feeding session
Micronutrient supplementation and food fortification including salt iodization – supplementing or providing children under the age of five years, pregnant and breastfeeding women with essential vitamins and minerals in the form of tablets, capsule or syrup that the body needs in miniscule amounts throughout the life cycle. In these forms, vitamins and minerals are added to widely consumed foods and condiments such as rice and wheat flour with iron, vegetable cooking oil with vitamin A and salt with iodine.
Integrated management of acute malnutrition – providing timely detection and treatment of acute malnutrition through equity focused community outreach and provision of therapeutic and supplementary feeding
Ensuring care and hygiene practices including hand-washing before preparing or feeding a child, after using the toilet; ensuring that young children, pregnant and breastfeeding women attend under-five clinics and ante-and post-natal clinics, respectively, including seeking health care when sick.
Most, if not all, of these programs are in line with current government efforts to fight malnutrition. These include the Pantawid Pamilyang Pilipino Program (4Ps), a social protection and poverty reduction scheme that provides conditional cash grants to poor households.
Collective efforts in combating malnutrition have seen positive and promising results, so far.
For one, the advocacy for optimum infant and young child feeding led to the Philippine government signing and publishing in 2011 of The Implementing Rules and Regulations on Republic Act 10028 or the Expanded Breastfeeding Promotion Act of 2009. The law includes provisions for the establishment of lactation stations in public and private institutions, and to include IYCF in school curriculum.
The number of the children under age five who are underweight has also been on a steady decrease. But UNICEF quickly noted it is not fast enough to reach the MDG of reducing underweight children in two years.
Indeed, combatting malnutrition among children remains a herculean task. But it cannot be left undone or done half-baked.
Filipino national hero, Dr. Jose Rizal, said it well enough that children are the nation's future. But with malnourished and inadequately educated children, what future is in store for the Philippines, which at this point is already saddled with deep poverty?
As the country is set to elect in May new sets of leaders from senators down to local councilors, Filipino voters are urged to choose candidates who can place the issues of children, especially malnutrition, at the heart of their platform of governance.
As political candidates are busy roaming around, campaigning and making mostly sweet but hollow promises, the Malano brothers continue to swim in the vastness of the sea. Whatever the tide may bring for them today or tomorrow, nobody knows. What is certain is Filipino voters can choose to use the power of their vote to end children's miseries and change the nation's destiny.
The author is a senior correspondent of GMA Network and contributes features on children, women, education, health, and the environment to GMA News Online.

The article is an offshoot of a television special report produced by the author, along with segment producer Roma Cassandra Aquino, researcher John Alliage Morales and the Special Assignments Team. The TV report aired on GMA Network.