Bo Sanchez says God's love helped him overcome pain of sexual abuse
In an interview with Mel Tiangco for the GMA News TV show "Powerhouse," the evangelist and inspirational writer Bo Sanchez opened up about being sexually abused as a child.
"I was eight years old when I was molested as a child. A cousin of mine, older than me by 10 years, dinala niya ako sa kwarto niya and he abused me ... I didn't know what was happening." says the preacher, who spoke with Mel Tiangco about his ordeal in a surprisingly calm manner.
When he was thirteen and already serving in religious ministries, Sanchez says he was sexually abused for the second time by no less than the youth leader in his community. "Naramdaman ko na lang na he was on top of me and he was naked. I froze," he recalls.
When asked how he dealt with the experience, he says, "Your mind has a way of blocking painful memories, pero 'yun pala, nakatanim." Not long after the abuse, he reveals that he became addicted to pornography and masturbation. Bo says of his addiction. "It was so difficult because I wanted to love God … Any addiction is a hunger for love, looking for a substitute for love."
It's hard to believe that someone who endured such terrible abuse would one day become a preacher. Today, Bo Sanchez is an influential Catholic lay evangelist, a TV host, a best-selling author, a husband, a father of two boys, and an inspiration to thousands of Filipinos. But he says that he may not have found God had he not experienced deep pain.
"Looking back, na-realize ko na ginamit ng Diyos 'yung pinakamasakit na nangyari sa buhay (ko para mapabuti ako)," recalls Sanchez. The preacher says that once he found God's love, he was healed: "Mahal pa rin niya ako, tanggap pa rin niya ako. It is this love na nag-heal sa akin."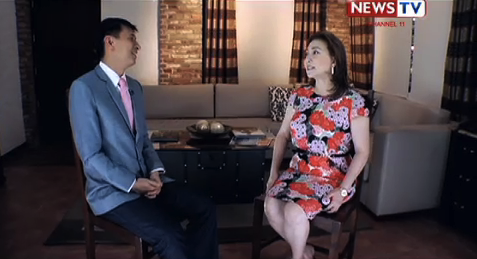 "Preacher in blue jeans"
There's no denying that Bo Sanchez has achieved much in his life. After all, he had an early start.
At the young age of 13, Bo Sanchez gave his first talk to a prayer group of adults, much to the amazement of his supportive parents. Not long after Bo started preaching, he started the Light of Jesus community with his parents. At 14 years old, Bo Sanchez started preaching the Word of God to around 20 people in their garage. Today, the Light of Jesus community has around 3,000 members, 30 branches all over the Philippines, and 27 branches around the world.
He also founded a magazine called "Kerygma" that has been in circulation for 23 years, written over 30 books about strengthening one's faith and family relationships, and founded Shepherd's Voice radio and television foundation. He also actively uses online videos, blogs, and his website (preacherinbluejeans.com) to preach.
Brother Bo says he wants people to hear God's word through a less intimidating source–an ordinary person with a job, a family, and problems. This is why he likes to call himself the "Preacher in Blue Jeans."
"I know that there are people who listen to me because totoo raw ako. Kinukuwento ko 'yung baho ko, 'yung kahinaan ko and because of that, they identify with me. Then there are those who say that I just preach simply, I don't complicate things," says Brother Bo about his popularity. "I don't want to impress people with how knowledgeable I am. I'd like people to just understand the word."
Family Man
Despite a deep love and devotion to the Lord, Brother Bo didn't pursue priesthood, which many find puzzling. "Pari ka man o may asawa, empleyado ka o negosyante, isa lang ang tawag ng Diyos sa 'yo: Maglingkod ka sa iba, mahalin mo 'yung iba," he told "Powerhouse."
Bo says that the Lord called him to marry instead. He met his wife, Marowe, while she was working as his secretary in the ministry. "I saw (in Marowe) the qualities that I needed in a wonderful wife. (We're) very happy after almost 14 years of marriage." Today, they have two sons.
In a fifteen page mission statement for his life that Bo wrote, he says, "I'll be the greatest husband my wife can ever have. I'll be the greatest father my kids can ever have." Bo makes it a point to play and spend time with his children everyday. "Hindi mo kailangang sabihin sa anak mo (na importante sila). Spend time with them (and make them feel important instead)," he says.
God will provide
At 46 years old, Brother Bo has never experienced working for a company. He has been serving God full-time since high school, living off of the allowance from his ministry. In fact, he used to think that money was evil and that it was better to be poor than rich. He believed that no matter what, "God will provide." Needless to say, Brother Bo and his wife didn't have a comfortable life during the early years of their marriage.
Brother Bo told "Powerhouse" that he slowly changed his attitude towards money because he got so many prayer requests about financial problems, which were causing so much trouble for members of his community. He says that he realized "money can be beautiful if you (use) it for the right purpose, which is to love other people."
Because of his changed mindset towards money, Bo looked for a financial mentor and studied investing in the stock market. Now, he teaches other people through his financial consulting business. He also has several other sources of income, most of them online.
Now, Bo has a revised version of his attitude towards money: "God will provide through the gifts He has given you. The most important way He provides is He gives you talents. Gamitin mo 'yung talents mo (para kumita ng pera)."
Brother Bo Sanchez told "Powerhouse" that whatever success he is enjoying now is not his, but the Lord's success. In the 30-plus years that he has been an evangelist, he has experienced both heaven and hell on earth. So to people who are struggling, Brother Bo gives these words of encouragement: As long as your faith in God is unwavering, there is always hope.
–Grace Gaddi/PF, GMA News