Robin Padilla shows up at Kiram home in Taguig, offers to help sultan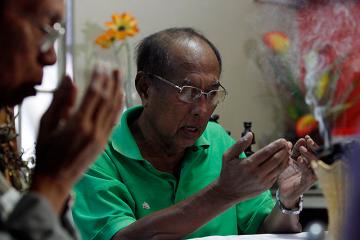 Sulu sultan prays as firefight erupts in Sabah . Sulu Sultan Jamalul Kiram III prays inside his house in Maharlika village, Taguig City on Friday as fighting was reported to have started between Malaysian forces and his armed followers at a small fishing village in Sabah. In a report aired over GMA's News TV Live, reporter Mariz Umali quoted Kiram's spokesman Abe Idjirani in Manila as saying that Malaysian forces began surrounding the Filipinos at around 6 a.m. He also said the first shot 'was fired by Malaysian police authorities.' Reuters/Romeo Ranoco
Embattled Sulu Sultan Jamalul Kiram III received a morale booster of sorts as he got a visit from actor Robin Padilla at his Taguig City home Saturday afternoon.
Padilla said he wants to help Kiram, whose followers face all-out action from Malaysian forces following Friday's bloody clash in Sabah, radio dzBB reported.
The report quoted Padilla as saying he is a Muslim convert and wants to help Kiram.
His visit came at almost the same time President Benigno Aquino III called on Kiram's followers still in Sabah to surrender without conditions.
At least "10 to 12" Filipinos were killed along with two Malaysian commandos in Friday's incident.
Friday's shooting came after a standoff that lasted nearly three weeks in Sabah. Kiram's followers claimed Sabah was their homeland.
— LBG, GMA News