Malaysia beefs up patrols in Sabah waters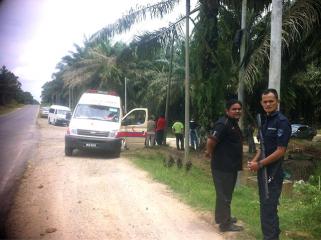 Ambulance arrives in Sabah clash site. Ambulance are on standby at road leading to Tanduao, Sabah on Friday after reports broke out that Malaysian security forces started firing at a group of Filipinos holed up in a fishing village there. Although Malaysian and Philippine governments deny that an encounter occured, Raja Muda Agbimuddin Kiram, the leader of the group in Sabah, said they were shot at and had to 'defend' themselves. Maki Pulido
Malaysia over the weekend beefed up patrols in the waters of Lahad Datu in Sabah, following a deadly shootout with a group of armed Filipinos claiming to be followers of the Sulu sultan.
The Malaysian Maritime Enforcement Agency said three maritime vessels and six patrol boats are prowling the waters in the area, state-run Bernama news agency reported.
"(In) view with the intrusion issue, we have deployed six MMEA boats based in Sandakan, Sabah to increase control in the waters,"
Bernama quoted Malaysian Maritime Enforcement Agency
director-general Admiral Datuk Mohd Amdan Kurish as saying.
Malaysia previously dispatched only three ships to patrol the area, he said.
"Prior to this we have three ships patrolling in Lahad Datu, two of them at sea and the other one on standby," he said.
The Bernama report also said the MMEA is coordinating with other security forces including the Royal Malaysian Navy to "face possible threats from the armed intruders from the Philippines."
Malaysia had adopted an all-out stance against the Filipinos who arrived in Sabah in February and claimed to be followers of Sulu Sultan Jamalul Kiram III.
This was after a bloody encounter Friday that left "10 to 12" Filipinos dead along with two Malaysian police commandos.
President Benigno Aquino III on Saturday called on Kiram's followers still in Sabah to surrender without condition but Kiram's camp has rejected the call.
Malaysian cops shot at in Sabah
Meanwhile, Malaysia's The Star online reported two policemen were wounded after armed men fired at them in Sabah Saturday night.
It quoted Sabah police chief Datuk Hamzah Taib as saying a police team went to the island in search of several personalities following reports that they were in possession of firearms.
"The policemen entered the village and were walking on the stilt boardwalk when they were fired upon and two of our men were injured,"
Hamzah said
.
"For now, we believe it is unrelated to the situation in Lahad Datu," he added.
Bernama said the situation is tense in the east coast of Sabah after Friday's clash.
— LBG, GMA News