Ateneo to launch 'University Traditions: The Science and Engineering Interviews'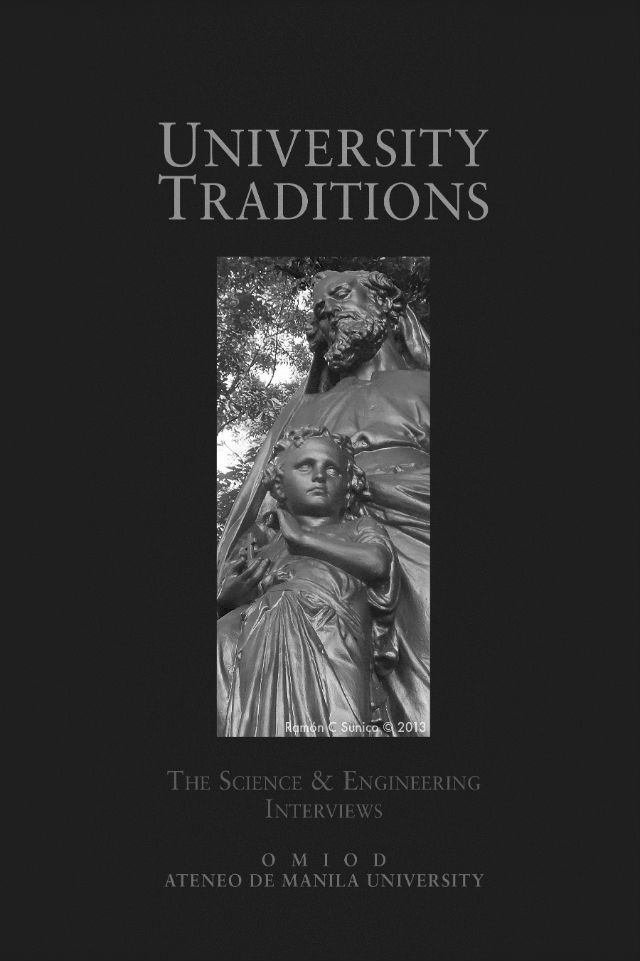 The Ateneo de Manila University will launch the book "University Traditions: The Science and Engineering Interviews," the third installment of the University Traditions series that chronicles the stories of the Ateneo's esteemed professors whose lives and service to the University, on Monday, March 11, 2013, at the New Rizal Library, Ateneo de Manila University.
Told in the voices of fifteen outstanding faculty members and a few students, the book provides a unique, personal perspective on the history of the sciences in the Ateneo. Multi-awarded poet Ramón C. Sunico edited the book and provided the book cover image while Vernon Totanes provided the text.
Of the fifteen faculty members who have taught biology, chemistry, computer science, mathematics, and physics, many are still to be found conducting classes with their respective departments.Former Ateneo de Manila University President and National Scientist Fr. Bienvenido Nebres, SJ has returned to the Department of Mathematics to teach alongside his colleagues Dr. Norman Quimpo and Ateneo professors emeritus Dr. Jose Marasigan and Dr. Mari-Jo Ruiz.
The first volume in the series, "The Humanities Interviews," earned the National Book Award in Education in 2006. The second volume, "The Social Sciences Interviews," was launched in 2010. The University Traditions series is edited by Ramón C. Sunico.
For orders, please contact Chanda Policarpio at (02) 4266001 local 4011, or email cpolicarpio@ateneo.edu.

Press release and photo from Ateneo de Manila University