Google Doodle fetes anti-apartheid singer Miriam Makeba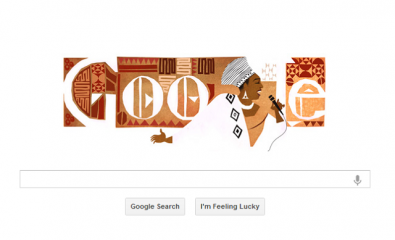 Happy birthday, Miriam Makeba. A screenshot of Google's Doodle honoring African singer Miriam Makeba on her 81st birth anniversary on March 4, 2013. Google
Google on Monday paid tribute to Miriam Makeba, the African singer who as "Mama Africa" was one of the most vocal champions against apartheid.
Visitors to Google's homepage (www.google.com) were greeted with a doodle of Makeba, who was born on March 4, 1932, and died Nov. 9, 2008.
As in the past, clicking on the doodle will redirect the visitor to a Google Search Results page for "Miriam Makeba."
Makeba, who also earned the nickname "Empress of African Song," was the first black South African musician to gain international fame,
IBN Live said
.

While angering then apartheid South Africa's ruling white minority, she won praise in the 1950s for her vocals.
She was also the first black woman to speak at the United Nations in 1963. She was nicknamed "Mama Africa" for bringing together the African continent.
"Makeba always stressed her African pride through her hairstyles and traditional clothes and the Google doodle in her honor also shows her in traditional attire," IBN Live said.
Makeba died of a heart attack on November 9, 2008. — TJD, GMA News