Media face 'near-news blackout' in Sabah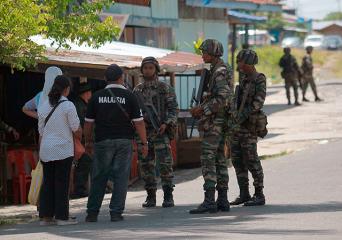 Malaysian troops deployed as Sabah clashes escalate. Malaysian soldiers man a security checkpoint in Semporna, the new area where a standoff with armed followers of the Sulu sultan in Simunul, Borneo occured on Sunday. Five Malaysian policemen and two gunmen died in a fresh clash as fears mounted that violence linked to a deadly standoff with Filipino intruders had widened to other areas. AFP
Information about the crisis in Sabah has been sparse, with media prevented from getting near the action as the standoff between Malaysian security forces and an armed group believed to be Filipino followers of the Sulu Sultanate turned violent in recent days.
"Halos news blackout ang nararanasan natin dito. Sobrang tipid nila sa impormasyon, wala silang inilalabas na impormasyon tungkol dito," Maki Pulido said in her report aired on GMA News TV's State of the Nation with Jessica Soho Friday.
The reports coming out of Sabah have been a jumble of conflicting information.
On Friday,
the brother of Sulu Sultan Jamalul Kiram III said Malaysian security forces fired at the armed group in the village in Sabah where they were holed up.
In an interview with radio dzBB on Friday at around 10 a.m., Raja Muda Agbimuddin Kiram, the leader of the group in Sabah, said they were shot at and had to "defend" themselves.
"Biglang pumasok sa amin, we had to defend ourselves," Raja Muda Agbimuddin said.
Hours later,
the Department of Foreign Affairs claimed that 10 followers of the Sultan surrendered to authorities,
and that the weeks-long standoff was at an end.
"The [Malaysian] ambassador said that the standoff is now over," Foreign Affairs spokesman Raul Hernandez said at a briefing in Manila, citing information from the meeting between Malaysian Ambassador Zamri Kassim and Foreign Secretary Albert del Rosario.
Hernandez claimed that three people, two of them members of the Malaysian police, were killed and another one was wounded in the encounter.
The rest of the Filipino group "escaped and ran towards the sea" and are being pursued by Malaysian police, he added.
On the other hand, a report by Agence France-Presse said 12 Filipinos were killed in the incident. The report said according to Sabah state police chief Hamza Taib, in addition to the two police officers killed, "three were injured and... 12 intruders died" in the firefight.
Meanwhile, Malaysian state news agency Bernama said that two Malaysian police had been killed in a mortar attack and two wounded after security forces tried to force out the group of at least 100 Filipinos who have been holed up in eastern Sabah state for more than two weeks.
In a separate briefing earlier in the day, Kiram's camp claimed that the encounter between Kiram's followers and members of the Malaysian police had resulted in the death of 10 Filipinos.
Amid the different claims of different officials and news agencies, Pulido said she tried but failed to interview Malaysian authories.
"Wala talaga tayong makausap para man lang makakuha ng official na count or at least the version para lang maplantsa ba ang mga detalye na lumalabas," Pulido said.
Police also restricted the media from going near the area to personally survey the situation, she added.
"Hindi ka papayagang lumapit sa lugar at kung maglalakas na loob kang lumapit sa lugar, may kaunting harassment rin, nagkakaroon ng confiscation ng mga passport, at the same time, bababa ka pa lang sa sasakyan, nakikita pa lang nila 'yung camera, talagang sumisigaw na 'yung mga sundalo ng Malaysia," Pulido said.
"Dumating ang military truck na humaharurot kung saan kami nakapwesto, ay talagang unang tinaboy ay media, pasigaw na pagtaboy sa media na nandoon nag-aabang sa may ambulansya, kaya hindi nagtagal, pinalayas na din kami. And I guess that's the more accurate word, pinalayas kami doon sa lugar," she added.
Journalists detained
Three journalists, including a Filipina, were also detained for several hours by the Malaysian special forces.
The National Union of Journalists of the Philippines has expressed its dismay upon learning that
Malaysian police detained Al Jazeera journalists Jamela Aisha Alindogan, Steve Chao and cameraman Mark Giddens
while working on a story about the standoff in Sabah.
"Whatever the implications the standoff may hold, we firmly believe that these can never be an excuse for any attempt to stifle the delivery of accurate and timely information, especially to the people of the Philippines and Malaysia who have a direct stake in what is going on and, thus, deserve to know," the NUJP said in a statement released last week.
'No need for unified spokesperson'
Malacañang on Saturday said it sees
no need to designate a main spokesperson
on the ongoing situation in Sabah.
Presidential Communications Development and Strategic Planning Office head Ramon Carandang said the Palace finds nothing wrong if other agencies like the Philippine National Police issue statements on the matter.
He said the DFA and Malacañang have been the main sources of government statements on the matter.
"Hindi mo maiwasan [mag-comment] kasi tinatanong sila ng media ano tingin nila rito," Carandang said.
"The point is sinasabi natin pare-pareho lang. Hingi natin matapos ito sa mapayapang paraan at 'yan ang ginagawa natin," he added.
Meanwhile, belying widespread reports that the Sabah crisis was over,
12 more were killed over the weekend
, including six Malaysian policemen in a firefight in Semporna, Sabah Saturday night with an armed group believed to be Filipino followers of the Sulu Sultanate, according to Malaysia's state-run Bernama news agency and Agence France-Presse.
Six of the armed Filipinos were also reportedly killed.
— BM, GMA News