Militants picket Malaysian Embassy to call for end to attack in Sabah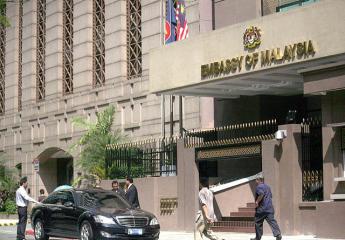 Business as usual at the Malaysian Embassy. Malaysian envoys alight from a car in front of the Malaysian Embassy in Makati City on Monday. Despite heightened security following the Sabah standoff, it is business as usual in the embassy. Danny Pata
Militant groups on Tuesday morning picketed the Malaysian Embassy in Makati City and called for a stop to the all-out attack by Malaysian security forces on followers of Sulu Sultan Jamalul Kiram III in Sabah.
The groups led by umbrella group Bagong Alyansang Makabayan marched to the embassy but police blocked them before they could reach the premises, radio dzBB's Mao dela Cruz reported.
The report said the picket snarled traffic in the area.
Police maintained a maximum tolerance policy in dealing with the protesters, allowing them to hold their protest but at a distance, it added.