Searching for the next Philippine art maestro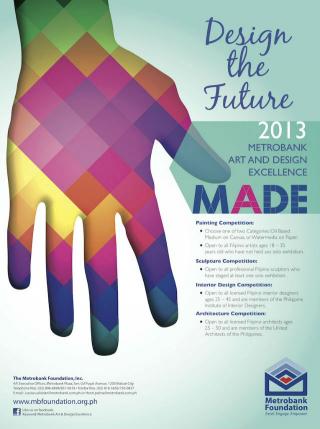 Are you ready to become the future of Philippine Art? The much-awaited art and design competition in the country, the Metrobank Art & Design Excellence (MADE), once again opens doors of opportunities for the future for young artist and designers this 2013!
Who are eligible?
For the painting competition, MADE invites Filipino artists ages 18 – 35 years old who have not held a solo exhibition and professional/practicing Filipino sculptors who have staged at least one solo exhibition for the sculpture competition.
Painting Competition:
A participant may choose to join one of the two categories: oil based medium on canvas or watermedia on paper. Painting entry should not be smaller than 18 x 24 inches and should not exceed 36 x 48 inches, excluding the frame.
Sculpture Competition:
For the artpiece: a minimum volumetric size of 1,728 cubic inches and a maximum volumetric size of 13,824 cubic inches excluding the base. The height of the base should not exceed 2 inches. Medium can be one or a combination of: resin, fiberglass, glass, metal, wood, stone (concrete), or fired clay.
All artworks should be original and must be left unsigned by the artist for the purpose of anonymity. The competition remains to have an open theme. The deadline of entries for Painting and Sculpture participants in Metro Manila and nearby provinces is April 26 – 27, 2013. Interested participants in provincial areas may drop off their entry forms in the nearest Metrobank branch in their area on April 23, 2013.
MADE will award three (3) artists with a grand prize of P300,000 and one (1) sculptor with a grand prize winner P300,000. Winners are also entitled to be recipients of a separate grant for their first solo exhibition, opening more opportunities for the winner.
The Metrobank Art & Design Excellence (MADE) competition is an art and design competition that has been strengthening Philippine art and design for 29 years by discovering excellence in art and design. Through MADE, the winners were able to launch their artistic careers and become future masters in their field. Some of the past winners who have succeeded in the contemporary art scene are: Jan Leeroy New, Lynard Paras, Mark Andy Garcia, Ronald Ventura, Anton Del Castillo, Elmer Borlongan, Boby Feleo, and Noell El Farol to name a few.
Entry forms with full competition and requirement details may be downloaded from the
Metrobank Foundation website
. Interested participants may also contact the MADE Secretariat at (02) 8988856 or Like the MADE (Metrobank Art and Design Excellence) Competition fanpage in Facebook for more details.
Press release and photo from Metrobank Foundation