Astronaut takes breathtaking photo of Manila from space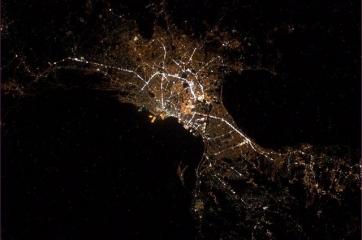 Nighttime Manila as seen from outer space. Canadian astronaut Cmdr. Chris Hadfield took this photo of Manila as the International Space Station passed over the Philippine capital early Wednesday, March 6, 2013 (PHL time). Chris Hadfield, via Twitter
Canadian astronaut and International Space Station (ISS) flight engineer Cmdr. Chris Hadfield took a breathtaking photograph of Manila as the station flew over the Philippines early Wednesday.
"At long last - Manila, capital of the Philippines, delicately shining in the night," he said
via Twitter
.
Hadfield, who has been living onboard the ISS since last December in preparation for
Expedition 35
, regularly posts photos and mission updates. However, this image of the nation's most densely populated metropolis is a first for him.
The photo, as posted by Hadfield
on his Twitter account
at 7:29 a.m. on March 6, shows Manila at nighttime, with main roads and highways clearly visible due to streetlights and traffic —most notably EDSA, which forms a semi-circle with the port area at its center.
Hadfield's constant activity on social media has made him
an online celebrity in his own right
, with almost half a million followers to date.
— GMA News