Movie review: Love is madness and vice-versa in 'Silver Linings Playbook'
Patrick Solatano (Bradley Cooper) is a broken man. He's lost his wife, his job, and his house. Plus, he's crazy. I mean certifiably nuts with his bipolar disorder; something that manifests in sudden outbursts of rage, manic energy, and a serious impulse control issue.
Exhibit A: the near death of the guy his wife was cheating on him with via Pat's fists and kicks.


As I write this the pinkie finger on my left hand is wrapped in packaging tape, bolstered and straightened by a lollipop stick. I broke the bone through an idiotic furniture accident. So yeah, it's pretty hard to type. I mention this because the theme of injury and broken wings that need to be mended is brought into greater focus in "Silver Linings Playbook." Which is to say that a broken pinkie bone is to Pat's rage problem as durians are to oranges. But something that takes so long to heal saps your faith and you begin, in your head, to doubt and make up excuses to not even try.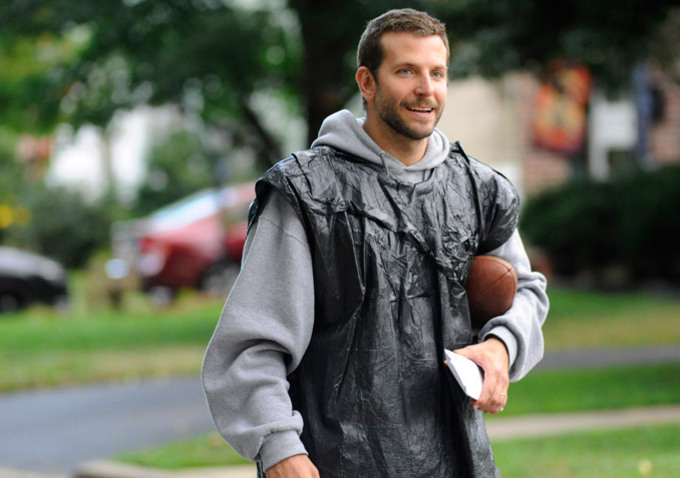 Patrick Solatano (Bradley Cooper) is a broken man. He's lost his wife, his job, and his house.
Pat's dad, the Senior to his Junior (played to football fanatic perfection by none other than Robert De Niro), puts it succinctly with the football adage: "There you go again, snatching defeat from the jaws of victory!"
Am familiar with self-sabotage, too, but when the movie starts out, things were actually looking up for Pat. He just got out of a Baltimore mental health facility on the guardianship of his parents. He's twelve-stepping his way to better control sans the cabinet of mood-altering drugs with what he calls "the silver linings playbook."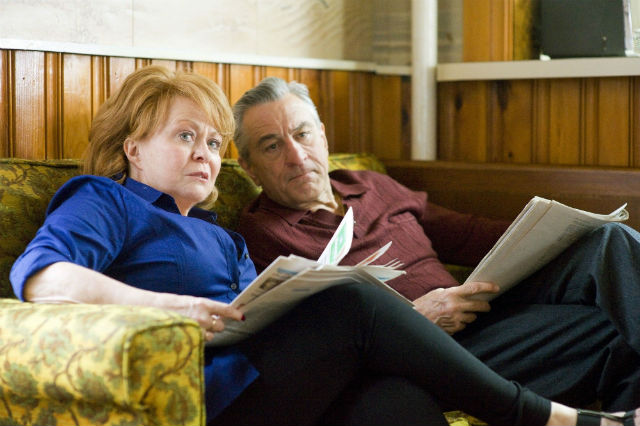 Pat's mom and dad, played to football fanatic perfection by none other than Robert De Niro
To be fair, his "episodes" are triggered by stuff that's related to the time he caught a history teacher and his wife Nikki (Brea Bree) bumping nasties in the shower. Like Stevie Wonder's "My Cherie Amour," Pat and Nikki's wedding song, which was playing when said incident took place, forever ruining Mr. Wonder for Pat.
When he gets home Pat learns that his wife has moved away and Pat Sr. is out of work; dad's since resorted to bookmaking (i.e. gambling) to earn money for a startup restaurant. This is where the sporting part of the title comes in, as football and the local team the Philadelphia Eagles figures prominently in the Solatano house's life.
Pat wants to reconcile with Nikki, who put a restraining order against him after he almost killed the history teacher, and he's trying, but the violent episodes keep getting in the way.
A lot of this stuff is hard to watch especially the part where (SPOILER ALERT!) Pat has an episode and ends up hurting his mom and punching his dad. Scenes like this drive home the point that mental illness is no laughing matter and crazy is only droll when it's happening to someone else. "Silver Linings Playbook" manages to make it sympathetic without being overt in its nods to verite. Your family walks on eggshells around you, the littlest things can set off a tantrum, the constant threat of loss of control; they all bring home the point that living with someone who's got real head issues is NOT easy.
The direction to show these breakdown episodes without apology or candy-coated pablum made me clap. I mean, for the whole narrative payoff to work it needs to be, but, again, they could have completely gone the other way and show only the "cute" kind of these people's brain quirks—the OC behavior in TV shows like "Monk" or "The Big Bang Theory." Bravo for presenting us with the seat-writhing, uncomfy stuff (and I do mean cringe-worthy) without judgment or agenda.
It's the same approach the movie takes when we're presented with recently-widowed sex addict Tiffany Maxwell (Jennifer Lawrence, in the role for which she won an Academy Award for Best Actress). She tells him that she'll help Pat get Nikki back by sending her a letter he wrote. That is, on the condition he agrees to be her partner for a dance competition.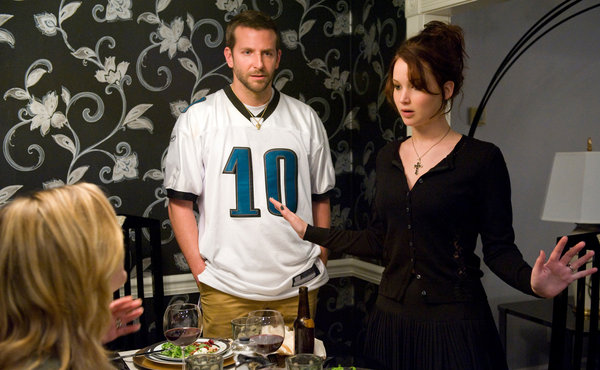 Pat meets recently-widowed sex addict Tiffany Maxwell (Jennifer Lawrence, in the role for which she won an Academy Award for Best Actress).
To be fair this isn't just about Pat's craziness. No way, since Tiffany also suffers from a confidence and deep self-esteem problem. It manifests itself in sexual promiscuity. Or as Tifanny herself puts it: "Yes, I was a big slut."
The visual metaphor of how Tiffany literally keeps running after Pat on his daily jogs and the way it reverses toward the end is a nice touch. And it's also a great, subtle commentary about people in distress—especially mental duress—often having delayed reactions to causality in the present, needing the obvious beneficial decision (at least the one that hurts the least people) pointed out to them. Even the detail about how the mental disease pecking order of the least crazy looking down on those crazier than they are is spot on.
I've often heard it said that there's no real cure for psychological diseases, only a level of functioning adjustment, something that keeps you in a state of balance. "Silver Linings Playbook" presents us with that balance in the least sappy way possible as we're shown the unusual courtship happening between Pat and Tiffany. Such a tangential way to go about it, but it's a courtship nonetheless. Eventually all the hard work they earn toward competing keeps them too busy to even have any opportunity for any relapse. Plus it helps that Cooper and Lawrence have genuine chemistry. It culminates in the intimate albeit embarrassing (in a good, funny, way) finale number.

Since the screenplay's adapted from the similarly-titled novel by Matthew Quick, I wonder if the tone of the characters change when you're actually inside their heads. Chris Tucker's character Danny (who has a great supporting role by the by) is an especially interesting case of off-kilter.
Even if the rom in this rom-com is undeniably Hollywood, how Tiff and Pat fit each other's crazy is an inspiring, entertaining story of how the right people can be good for each other and how they can, in quantifiable terms, keep the madness at bay. You know how they say two people in love can be "crazy for each other"? Watch "Silver Linings Playbook" and see just how two sides of chaos make a pair.

"There will always be a part of me that is dirty and sloppy," declares Tiffany in one confrontation with Pat. "But I like that, just like all the other parts of myself. I can forgive."
For once a rom-com gets it right with its message, like an acupuncture needle finding the right spot: love heals, and the right love heals quickest. —KG, GMA News
"Silver Linings Playbook" is currently screening in major theaters.

All photos courtesy of The Weinstein Company