Death toll in Leyte landslide rises to 14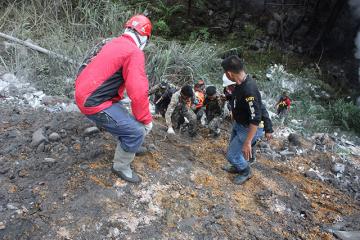 Worker's body retrieved from Leyte landslide site. Rescuers on Monday retrieve the body of a worker following a landslide in a geothermal power plant in Kananga, Leyte. The body was taken to a local hospital to be identified by relatives. Seven workers have been killed in the incident. GMA News/EDC/HO
Alberto Ignacio Jr., geothermal projects division vice president of construction firm First Balfour, said the four bodies were retrieved Wednesday morning buried in the ground along the road where they were building a pipe shelter at the time of the landslide.
Ignacio identified the first four bodies recovered on Wednesday as those of Salvador Lascañas Jr., Alfredo Arabis, Romeo Yazar and Danilo Mabuti.
The fifth body later recovered in the day and a sixth early morning Thursday were identified as Salvador Yabana and Jorden Salcedo.
"We are extending full assistance to the family for funeral/burial expenses. We have also assigned staff to be with the families as we did for the rest who were earlier recovered," Ignacio said in a text message to GMA News Online.
Previously recovered were Bonifacio Poliño, Etcheld Dela Austria, Edgar Cabarse, Billy Abella, Joel Milay, Marlon Buanghog, Uldarico Taboranza, and Abelardo Permangel.
The landslide occurred at Pad 403 of the Upper Mahiao Geothermal Project in Leyte last Friday.
"'Yung ginagawa kasi sa pipe shelter sa road 403 and 409, there's a section on the pipeline along the road na nagka-landslide," Ignacio told GMA News Online in a phone interview.
The plant's operator Energy Development Corp. (EDC) suspected that an earthquake last Feb. 27 and two weeks of rain may have triggered the landslide Friday morning, which initially claimed five lives.
First Balfour is the contractor for one of the civil works in the province.
"The Emergency Response Team and all available personnel, as well as company resources and equipment, have already been mobilized," the company said in a statement.
The EDC accident is the second landslide to claim lives in the country this year.
Five were killed while five are still missing when a section of the west wall in a mine pit of Semirara Mining Corp. in Antique collapsed on Feb. 13. — RSJ/BM, GMA News