PHL tourist spots make Lonely Planet, TripAdvisor lists of top destinations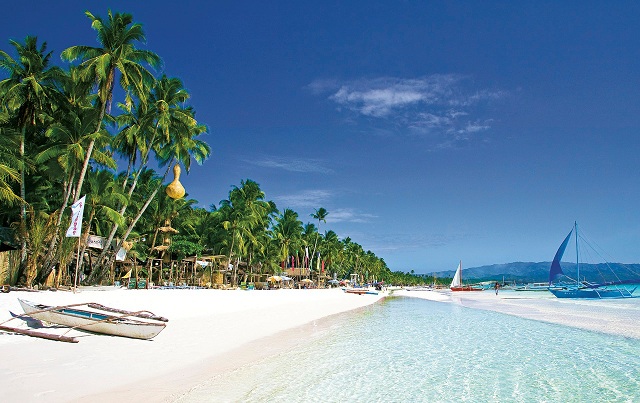 Boracay's White Beach tops the list of TripAdvisor's best beaches in Asia. Photo from the Department of Tourism
The world-famous Boracay island is just one of the attractions that draw travelers to the Philippines, which had some entries in two travel guides' lists of top destinations.
For the third year in a row,
White Beach, Boracay
topped the list of 25 Best Beaches in Asia in TripAdvisor's 2013 Traveler's Choice Awards, the winners of which were announced last Jan. 16.
The online travel guide described White Beach as "a stunningly beautiful white powder sand beach [with] crystal clear, warm water that you can laze on for days on end." White Beach also made it to the top 25 Beaches in the world, at number 24.
Also on the list were the Secret Lagoon of El Nido, Palawan at number 9 and Boracay's Yapak Beach (Puka Shell Beach) at number 10. Both beaches were described as wonderful in travelers' reviews, which were posted on the travel website.
Little-known dive resort Liquid Dumaguete in Dauin, Negros Oriental also
placed 14th in the top 25 Bed and Breakfast (B&Bs) and Inns
category.
In 2012, Boracay was cited by Travel + Leisure Magazine in its World's Best Awards as the
Best Island Destination
.
Also in 2012, it was listed by Cheapflights.com as one of the
Top 10 Best Beach Party Destinations
.
But the world-famous vacation island is not a perfect paradise, either.
On Monday,
a shooting incident
alarmed tourists and residents in Barangay Yapak in Boracay.
Last February 22,
Ati spokesperson Dexter Condez was shot to death
in Brgy. Balabag, another part of Boracay. Condez was the spokesperson for the Boracay Ati Tribal Organization (BATO), the group that has been fighting for the Ati community's two-hectare ancestral domain in Boracay.
In 2011, the National Commission on Indigenous Peoples bestowed BATO a Certificate of Ancestral Domain Title. Despite this, there are three property claimants to the land that is
home to some 200 members of the Ati community
.
Environmental issues are also a concern
, as some visitors have noted algae bloom along the beach, a sign of pollution, and the large crowds that litter and make a mess of the interior of the island.
Boracay's protection and preservation is a main concern that is now being addressed by both national and local authorities and stakeholders, the Department of Tourism said in a press release.
"In order for us to continue reaping the benefits of development and great publicity, we ought to seriously address the environment challenges. We call on all stakeholders to come as one in preserving our country's jewels," Tourism Secretary Ramon R. Jimenez said in the release.
The Philippines also recently made it to the Lonely Planet Traveller's Choice 2013 and rated as one of the Top 10 popular destinations to go to for meeting locals (ranked 6th) and value for money (ranked 8th), DOT noted.
"We are so thrilled that these accolades keep coming, proof positive that our marketing efforts are paying off, and more and more satisfied travelers are proudly spreading the word about their many fun experiences in our beautiful country," Jimenez added.
— Carmela G. Lapeña/BM, GMA News