PHL-MY hackers in uneasy 'truce' as Sabah conflict continues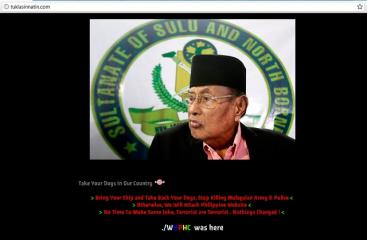 Defacement offensive . A screenshot of a defaced Philippine site as of 4 p.m. on Wednesday, March 6. Pro-Philippine and pro-Malaysian hackers had engaged in a deface race last weekend amid the clashes in Sabah between Malaysian security forces and followers of Sulu Sultan Jamalul Kiram III. Pro-Malaysian hackers offered a truce before midnight Monday. TuklasinNatin.com
Pro-Malaysia and Pro-Filipino hackers have been uneasily quiet since Monday, thanks to an online 'truce' between the two groups even as armed forces from both countries continue to clash over Sabah.
However, as of Wednesday afternoon, at least one Philippine site (TuklasinNatin.com) remained defaced, with a message apparently aimed at Kiram and telling him to "take back your dogs."
"Bring your ship and take back your dogs, stop killing Malaysian army and police ... Otherwise we will attack Philippine website," it said.
A line in the defaced page mentioned terrorism, the term the Malaysian government started using on Tuesday to refer to Kiram's followers.
"Terrorist are terrorist.. Nothings Changed!" the message in the defaced site read.
The defacement of TuklasinNatin.com was
noted as early as Monday morning
, hours before pro-Malaysia hackers offered a truce to their pro-Philippine counterparts.
PHL Anonymous hackers 'quiet'
Meanwhile, a Philippine hacker group claiming ties to the international hacktivist group Anonymous has not announced any attack on Malaysian sites since the offer of a truce Monday night.
The defaced site also bore a photo of Kiram, whose followers are still engaged in a clash with Malaysian security forces in Sabah.
Truce offered
On Monday night, pro-Malaysia hackers offered a truce of sorts with their pro-Philippine counterparts, amid the ongoing crisis in Sabah that has spilled over to cyberspace.
The hackers, in what they called a "last defacement" of a Philippine site, proposed that they and Philippine hackers "stop attacking each other."
"Well, it's time for us to PEACE and stop attacking each other. To end up this war, this is our last defacement and from now on none of us will step or touch your country site and none of you are able to touch our country site," they said in a message posted on the defaced website of the Calauan, Laguna government website (calauanlaguna.gov.ph).
"If you (are against) this agreement, we won't accept any apology or excuses," they added.
The defaced page also included what appeared to be the logos of the hacker groups.
Since last weekend, Philippine and Malaysian hacker groups had been defacing the website of the other country amid the crisis in Sabah.

Real-world clash

Last Friday, followers of Sulu Sultan Jamalul Kiram III engaged Malaysian security forces in a violent shootout that left at least 12 Filipinos and two Malaysian commandos dead.
On Saturday night, another clash left six Malaysian policemen and at least six Filipinos dead.
Last Tuesday, Malaysian forces assaulted the area where the Kiram followers were believed to be hiding.
Malaysia has been tracking down the followers of Kiram, who rejected President Benigno Aquino III's call for them to surrender without condition. — TJD, GMA News