Wonderful world, beautiful people, and reggae legend Jimmy Cliff in Puerto Galera
On the foothills of Puerto Galera's Mt. Malasimbo, the ground was cool and the smell of grass, trees, and other green things wafted across the natural amphitheatre. Overhead, stars winked from behind giant palm leaves.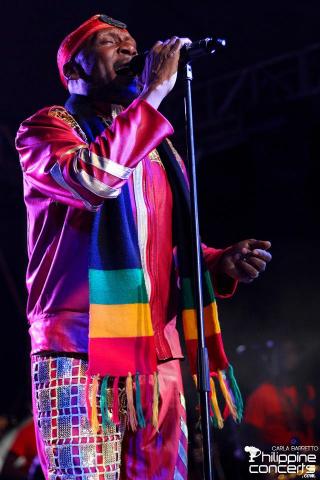 In many ways, the second night of the three-day Malasimbo Festival last weekend seemed tailor-made for reggae.
It was as if the mountain itself had adjusted to match the night's line-up--a wave of reggae with an undercurrent of soul: Bambu Spliff, Flippin' Soul Stompers, Jeck Pilpil & Peacepipe, and of course, the headliner: reggae legend Jimmy Cliff.
Overall, the mood was relaxed and open, as if the songs and their themes of peace, love, and freedom had saturated the crowd in a happy fizz of easy friendliness.
That night, everyone seemed to be instant friends with each other simply because they were all wedged together on that terraced hillside --weekend hippies, unwashed backpackers, and foreign volunteers -- the typical Malasimbo set.
Good vibes were passed around in between sets by way of shared cigarettes and stories pooled from all corners of the globe. Complete strangers exchanged smiles and hugs and taught each other to say "cheers" in their native languages. When the music played, they danced with each other as if they had known each other all their lives--most especially when Jimmy Cliff took to the stage.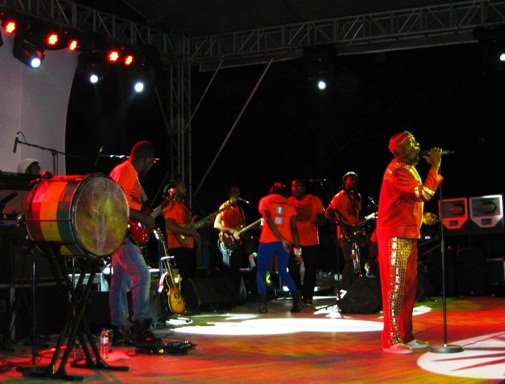 Reggae legend Jimmy Cliff sang of freedom, hope, and peace.
Photo by AMANDA LAGO
The 64-year old emerged on stage almost immediately after the previous band, Jeck Pilpil & Peacepipe, had packed up. Cliff's entrance was sudden, like a flash of lightning with his bright smile and embellished red jacket and pants.

As soon as he seized the mic, it was a collision of energy. The audience, already roused by the earlier performances, exploded after being introduced to Cliff's catching joy and powerful voice.

His performance overflowed with positivity. He danced like a madman--hardly graceful, but infectiously ecstatic. He framed the crowd in giant air hearts as the percussions rose. He jumped around and travelled from one end of the stage to another, sharing the good vibes to everyone in the audience.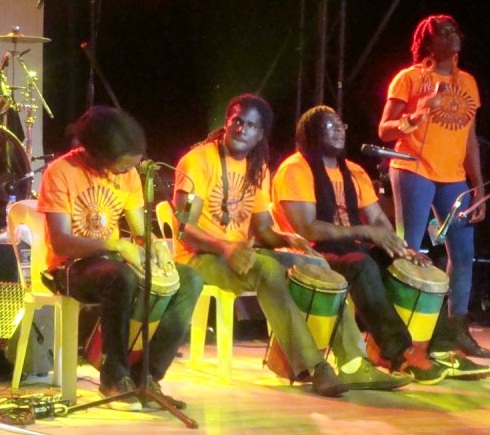 Jimmy Cliff's band sported reggae colors and shared good vibes with the audience. Photo by CIARRA DE MATA
The songs he performed spoke of hope ("I Can See Clearly Now"), perseverance ("You Can Get It If You Really Want"), ending wars ("Vietnam"), battling oppressors (landmark reggae song, "The Harder They Come"), unbridled freedom ("One More" from his new album, "Rebirth").

He even sang "Hakuna Matata," tugging at the heartstrings of the '90s kids in the crowd and giving the yuppies and weekenders a motto to hang on to for the rest of the festival.



Even the rather classic "Wild World" from heartbroken Cat Stevens was given a more hopeful element, with Cliff reggae-fying it for a downbeat but still powerful number that had people waving their hands in the air as in heartfelt worship.

And when Cliff sang "Wonderful World, Beautiful People," one of his older, more popular songs, it was almost as if he was singing it for the first time and referring to that exact moment.

As it turns out, he was. In a post on his official Facebook page a few days after his performance, Cliff said, "I had a blast last night at Malasimbo in Puerto Galera, Philippines! Wonderful Island and Beautiful People... Blessed Love." – YA, GMA News