No deployment ban of Pinoy workers to Malaysia — DOLE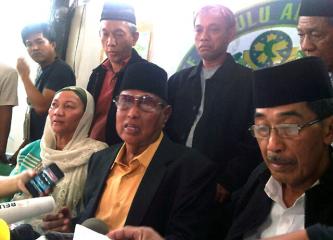 Sultan Kiram III declares unilateral ceasefire in Sabah. At a press conference in Taguig City on Thursday, Sulu Sultan Jamalul Kiram III (center) gets teary-eyed as he thanked the United Nations and the media for their support. The sultan declared a unilateral ceasefire in Sabah where at least 40 lives have been lost. He also ordered his followers to initiate evasive and defensive posture against Malaysian forces. Sherie Ann Torres
Department of Labor and Employment (DOLE) Secretary Rosalinda Baldoz said there is no deployment ban of Filipino workers to Malaysia despite the tension in Sabah.
"There is no ban. There is no mandatory repatriation…everything will have to depend on the assessment of the Department of Foreign Affairs (DFA) based on the area where there is conflict," Baldoz said.
Baldoz chief explained that the recent 289 Filipinos who returned to the Philippines were not connected to the Sabah tension.
"I visited Zamboanga City to get the best handle of the situation that might involve our OFWs in Sabah. I was informed by our field officials that the 289 are "regular deportees" who came from all over Sabah and Peninsular Malaysia through regular commercial vessels from Sandakan," she said.
Tension in Sabah
Malaysia's De facto law minister Nazri Aziz on Tuesday said the armed followers of Sulu Sultan Jamalul Kiram III would be charged for murder for their intrusion into Lahad Datu, Sabah.
The arrival of dozens of armed Filipinos into Sabah last month was "intrusion into our sovereignty not a war," Nazri said in a report of Malaysia's
The Star Online
news site.
A Reuters report on Tuesday said Malaysian troops backed by fighter jets attacked the armed Filipino group on Tuesday, trying to end a standoff in Sabah after violence that killed at least 27 people.
The Filipino group arrived by boat about three weeks ago claiming to be descendants of the Philippines' sultanate of Sulu.
They are demanding recognition and an increased payment from Malaysia for their claim as the rightful owners of Sabah, part of Borneo island and which the sultanate leased to British colonialists in the 19th century.
Malaysia has refused the demands. Manila has repeatedly told the group to put down their weapons and come home.
Malaysia has rejected the group's renewed claim on Sabah, which was leased by the sultanate of Sulu to a British trading company in the 19th century and later absorbed by Kuala Lumpur. Sulu is a Philippine island chain that lies between Sabah and the Philippines' Mindanao island. The sultan's family are traditional rulers, with no formal political powers.
Deportees from Sabah
Meanwhile, DOLE data showed that 195 deportees from Sandakan, Sabah arrived on January 6, while another 109 deportees arrived on January 12, bringing the total number of deportees to 897 for 2013 alone.
Baldoz had ordered the DOLE Regional Coordination Committee to strengthen the One Stop Shop Processing Center (OSSPC), which was also implemented at the height of the Malaysian crackdown on illegal immigrants in 2005.
The OSSPC provides various services to the deportees, including transient stay, passport services, NSO birth certificate issuance, NBI clearance issuance, TESDA training, POEA processing of OEC, OWWA membership, reintegration services such livelihood, capability building, and entrepreneurship skills, and referral for local employment.
"We have the template on how to deal with the arrival of deportees and we are activating it and strengthening it just there will be an influx of deportees," she said during a meeting of the RCC which was attended by the heads of the DOLE Regional Office, OWWA, POEA, TESDA, and the NCMB.
Malaysian immigration records show that in 2010, there were 57,500 Filipino workers with work permits in Sabah. These Filipinos went to Sabah illegally and did not pass through POEA processing. Another 95,951 illegal workers registered under the Malaysian's Operation Bersepadu in the same year.
- VVP, GMA News