GMA News gains access to Sabah evacuation center, but no interviews allowed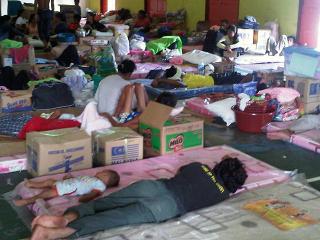 Evacuees from Lahad Datu villages seek shelter in govt centers . Evacuees from affected villages in Lahad Datu, Sabah, Malaysia stay at a temporary shelter in Dewan Embara Budi Community Hall, Felda Sahabat, Lahad Datu on Tuesday. Cedric Castillo
Malaysian authorities finally allowed foreign media to visit an evacuation center in the strife-torn town of Lahad Datu in Sabah, with GMA News the first media organization from the Philippines to report from the area, according to a TV report Tuesday.
In his report that aired Tuesday on "24 Oras," GMA News' Cedric Castillo noted that some 500 Filipino and Malaysian evacuees were housed in the Dewan Embara Budi community hall in Felda Sahabat, a community in Lahad Datu near the fighting surrounding Tanduo village where armed men from Sulu were holed up.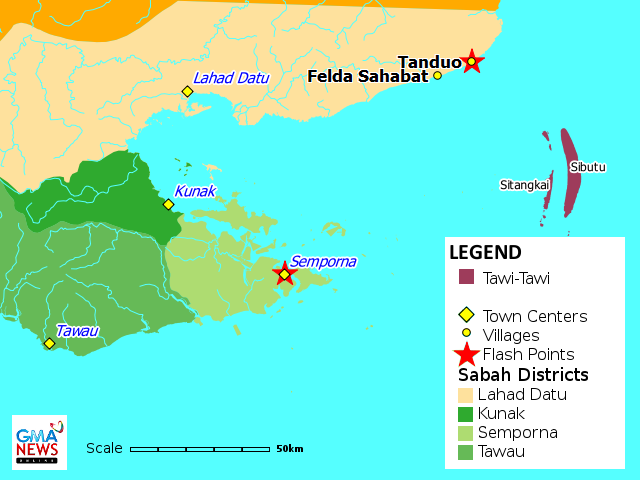 Dewan Embara Budi is one of three evacuation centers in Sabah.
Because this was the first opportunity given to foreign media to enter the evacuation center, Malaysian authorities directed the reporter to wear a yellow-green vest to identify himself as a foreign correspondent and prohibited GMA News from interviewing evacuees. Still, some of them were able to speak with Castillo.
It has been two days of quiet for the evacuees, after nearly a week of hearing exchanges of gunfire, said Castillo in the report.
The evacuees sleep on mats, their belongings packed in cartons next to them.
Inside the evacuation center, said Castillo, "aakalain mong nasa Pilipinas ka pa rin," because the Filipino language could be heard in every corner of the building.
The evacuees have been asking for medical supplies in case of illness, though Castillo said he did not hear anyone complain about any ailment.
According to the Malaysian news outlet The Star Online, 54 of Sulu Sultan Jamalul Kiram III's followers have been killed since fighting began between them and Malaysian security forces on March 1. Meanwhile, eight members of the Malaysian forces have been killed.
— Rouchelle R. Dinglasan/BM/YA, GMA News